Home
»
Education
»
Literacy
New Edition of a Widely Adopted Text
More than 50,000 in print!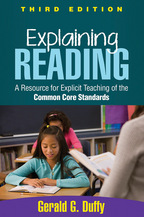 View larger

Explaining Reading
Third Edition
A Resource for Explicit Teaching of the Common Core Standards

Professors: free copies available for adoption consideration
Download an e-book copy now or request a print copy

New to this edition:
Significantly revised and restructured with a CCSS focus.
The teaching examples are all new or revised.
Provides practical ways to develop "close reading" of text.
Incorporates recent research on authentic tasks and adaptive teaching.