Home
»
Education
»
Literacy
New Edition of a Widely Adopted Text
More than 50,000 in print!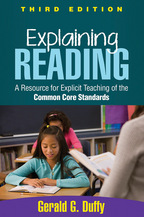 View larger

Explaining Reading
Third Edition
A Resource for Explicit Teaching of the Common Core Standards

Professors: free copies available for adoption consideration
Download an e-book copy now or request a print copy

"
Explaining Reading
has continuously been by my side as a resource for classroom lessons that provide the extra help my struggling readers require. The teaching examples feature clear objectives and scaffolding ideas, which I effortlessly adapt to my own lessons. The third edition is invaluable for any teacher striving to meet current standards and promote the value of reading."

—Terri Christie-Lutes, third-grade teacher, Eastern Elementary School, Traverse City, Michigan
"After using the second edition in my graduate-level reading courses for years, I didn't think it could be improved, but Duffy has outdone himself with this third edition! The book has been reorganized with a timely, relevant focus on applying the Common Core standards. It provides explicit instructional strategies for different text types (literature and informational texts) and text features. This is an invaluable resource for practicing and preservice teachers seeking clarity on how to teach the new standards effectively."

—Kelly B. Cartwright, PhD, Professor of Psychology, Neuroscience, and Teacher Preparation, Christopher Newport University
"Duffy has created a vital resource for teachers who want to teach reading concepts explicitly while aligning their instructional practices with the CCSS. The book guides teachers in the kind of thinking that expert teachers do using concrete classroom examples. This third edition is essential reading for preservice, beginning, and veteran teachers, as well as for professional development providers who want to promote adaptive, visionary, and effective reading teachers."

—Margaret Vaughn, PhD, Department of Curriculum and Instruction, University of Idaho
"I have used this book with my elementary preservice teachers in their required reading practicum course. They find it a welcome resource for their professional toolkits. The third edition's well-developed model lessons present the types of scaffolding teachers need to craft lessons based on the CCSS and differentiate instruction for struggling readers."

—Doris Walker-Dalhouse, PhD, Department of Educational Policy and Leadership, Marquette University
"Duffy offers clear examples and explanations of how to teach students who find reading to be daunting. This practitioner-friendly book is a go-to source for many teachers who want to understand and address the reading difficulties they see in their practice. In the third edition, Duffy succeeds in demonstrating the seamless relationship between the Common Core standards and good reading instruction."

—Jean Rattigan-Rohr, PhD, Director, Center for Access and Success, Elon University
"Over the last decade, I have consistently used
Explaining Reading
in my work with preservice and inservice teachers because of its accessibility and its foundation in research-based practice. In the third edition, Duffy aligns literacy concepts, skills, and strategies with the CCSS. Importantly, he does so in a way that empowers teachers to thoughtfully apply instruction that is differentiated based on student need. The book presents principles of effective literacy instruction in a style that is reader friendly and immediately applicable to daily practice. This is a 'must-have' resource for teachers and an ideal text for literacy methods courses."

—Seth A. Parsons, PhD, College of Education and Human Development, George Mason University
"Duffy is one of the leading figures in reading research, whose groundbreaking work on teaching comprehension was featured in the report of the National Reading Panel.
Explaining Reading
translates volumes of research into practices that make sense to teacher educators and teachers. The book delivers what the title promises—an explanation of reading that supports both developing readers and teachers in achieving their shared goals. The book is concise (something we all appreciate) and yet embodies the breadth of understanding we have acquired about learning to become an effective reader."

—James V. Hoffman, PhD, Department of Curriculum and Instruction, University of Texas at Austin