Treatment of Complex Trauma
A Sequenced, Relationship-Based Approach
378 Pages
Size: 6⅛" x 9¼"
Paperback
September 21, 2015
ISBN 9781462524600
Price: $28.00 $23.80
order
Hardcover
November 7, 2012
ISBN 9781462506583
Price: $73.00 $62.05
order
EPUB e-Book

November 7, 2012
ISBN 9781462507191
Price: $28.00 $23.80
order
See related items for this product
---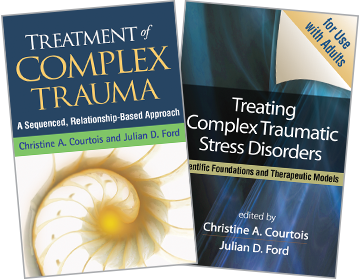 Special package offer: Authored by Drs. Ford and Courtois, Treatment of Complex Trauma: A Sequenced, Relationship-Based Approach presents their therapeutic approach in depth. The edited volume Treating Complex Traumatic Stress Disorders (Adults): Scientific Foundations and Therapeutic Models presents research on the nature of complex trauma and reviews a range of evidence-based treatment models for adults.
Order both items — a $68.00 value for $50.00!
order package