Home
»
Psychology, Psychiatry, & Social Work
»
ADHD Resources
New Edition of a Bestseller
More than 100,000 in print!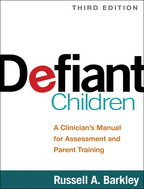 View larger

Defiant Children
Third Edition
A Clinician's Manual for Assessment and Parent Training
See related items for this product

Online-only
Spanish-language parent forms

Sign up for
e-alerts
on new titles from Russell A. Barkley.

Russell A. Barkley, PhD, ABPP, ABCN, is Clinical Professor of Psychiatry and Pediatrics at the Medical University of South Carolina. Dr. Barkley has published numerous books and five assessment scales, plus more than 275 scientific articles and book chapters on ADHD, executive functioning, and childhood defiance. He is also the editor of the newsletter
The ADHD Report
. A frequent conference presenter and speaker who is widely cited in the national media, he is past president of the Section on Clinical Child Psychology (the former Division 12) of the American Psychological Association, and of the International Society for Research in Child and Adolescent Psychopathology. His website is
www.russellbarkley.org
.
Sign up for e-alerts on new titles from Russell A. Barkley