Home
»
Psychology, Psychiatry, & Social Work
»
ADHD Resources
New Edition of a Bestseller
More than 100,000 in print!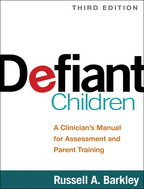 View larger

Defiant Children
Third Edition
A Clinician's Manual for Assessment and Parent Training
See related items for this product

Online-only
Spanish-language parent forms

Sign up for
e-alerts
on new titles from Russell A. Barkley.

Child clinical and school psychologists, neuropsychologists, social workers, nurses, and psychiatrists.