Home
»
Psychology, Psychiatry, & Social Work
»
ADHD Resources
New Edition of a Bestseller
More than 100,000 in print!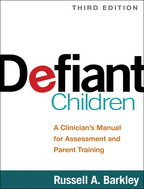 View larger

Defiant Children
Third Edition
A Clinician's Manual for Assessment and Parent Training
See related items for this product

Sign up for
e-Alerts
on new titles from Russell Barkley

"
Defiant Children, Third Edition
, reviews the current state of knowledge about disruptive behaviors in children. As in the prior editions, Barkley provides straightforward, useful instruction to clinicians on how to implement his parent management training program. Both seasoned practitioners and budding clinicians will find much to like in this volume."

-Robert J. McMahon, PhD, Department of Psychology, Simon Fraser University, and Child and Family Research Institute, Canada
"Defiant children are extremely challenging for parents to raise—and for clinicians to treat. Barkley walks clinicians through effective parent training interventions. One clear exercise at a time, parents learn how to move from a troubled, conflict-ridden relationship with their child to one that is calmer and more positive. The book is well organized and user friendly. Clinicians who specialize in treating children and their families should have this third edition in their libraries and should use it as a guide at every step along the way toward building better parent–child relationships."

-Kathleen Nadeau, PhD, Director, Chesapeake ADHD Center of Maryland
"The third edition of this classic treatment guide outlines a state-of-the-art approach to treating childhood conduct problems from a master researcher and clinician. Barkley provides all the information needed to implement his evidence-based parent training approach. He combines clear, practical instruction on the use of effective assessment tools and therapeutic techniques with helpful advice on dealing with parents and children, developed from years of clinical experience. The up-to-date overview of research on the causes of childhood conduct problems will be very helpful to clinicians in communicating with parents about their children's behavior."

-Paul J. Frick, PhD, University Distinguished Professor and Chair, Department of Psychology, University of New Orleans
"I would recommend this book strongly as a thorough and clear exposition of fundamentals of behavioral parent training."

-Child Psychology and Psychiatry Review
"Very well organized and extremely easy to follow and understand....Barkley achieves his goal of providing a useful, concise manual for conducting parent training. This book is a valuable resource for professionals in the field of child psychology as well as for graduate students who are learning to do parent training."

-Journal of Clinical Child Psychology
"Because the manual is written so that the information and materials contained in it can be passed on to parents, it is easy to understand....One strength of the material is that alternatives are always provided for when the inevitable occurs—the child misbehaves and the current strategy is ineffective."

-Journal of Pediatric Nursing