Home
»
Self-Help & General Interest
»
Psychology
Bestseller
More than 75,000 in print!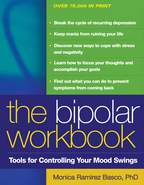 View larger

The Bipolar Workbook
Tools for Controlling Your Mood Swings

L
iving with bipolar disorder is a lifelong challenge. Those who struggle with the illness have to learn effective ways to control their mood swings, avoid relapse, and get the most from medication-based treatments. This workbook delivers a hands-on resource that gives sufferers the edge they need. Based on proven cognitive-behavioral therapy techniques, the book offers
a variety of tools
that enable readers to recognize the early warning signs of an oncoming episode, develop plans for withstanding the seductive pull of manic episodes, and escape the paralysis of depression. Specific chapters address key challenges at various stages, from overcoming denial of the initial diagnosis to fine-tuning treatments and maintaining gains.