Home
»
Education
»
Literacy
New Edition of a Widely Adopted Text
More than 50,000 in print!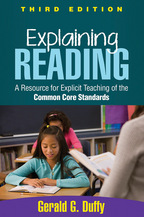 View larger

Explaining Reading
Third Edition
A Resource for Explicit Teaching of the Common Core Standards

Free copies available for adoption consideration

The new edition will be published May 2014. If you need this title before then, please see the
previous edition
.

Serves as a text in Elementary/Middle Grades Reading Methods courses.