Home
»
Education
»
Literacy
New Edition of a Bestseller
More than 125,000 in print!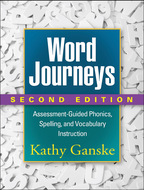 View larger

Word Journeys
Second Edition
Assessment-Guided Phonics, Spelling, and Vocabulary Instruction

Professors: free copies available for adoption consideration
Download an e-book copy now or request a print copy
See related items for this product
Ideal for Professional Development
Includes Common Core Content

Kathy Ganske, PhD, is Professor of the Practice of Literacy and Director of Graduate Elementary Education at Vanderbilt University. She has been involved in using, refining, and teaching about word study practices for over 25 years. Her work is grounded in extensive teaching experience in elementary classrooms. Dr. Ganske's current research interests include discussion during small-group word study instruction, literacy reform in challenging schools, and literacy teacher preparation. She is the author or coauthor of several books, including
Word Journeys
,
Word Sorts and More
and
Mindful of Words
, as well as numerous articles and book chapters.