Home
»
Preventing Boundary Violations in Clinical Practice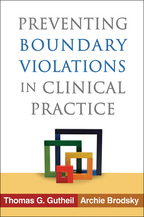 Preventing Boundary Violations in Clinical Practice
Thomas G. Gutheil and Archie Brodsky

"Excellent....The authors take the reader carefully through the morass of understanding and analyzing boundary issues in the therapeutic encounter, whether one is a psychiatrist or any other mental health professional. In providing this 360-degree look at boundaries, beginning with the theoretical underpinnings and moving to the 'on the ground' examples of a wide array of considerations about patient interactions that are, or could become, boundary crossings or violations and on to explicating the potential consequences for both patient and practitioner, the reader comes to appreciate these concepts from every angle. The chapters included in the 'Explorations' section leave few stones unturned....Will provide an incredible amount of useful information to therapists for practicing, teaching, and making careful and reasoned judgements about therapist behavior, whether their own or someone else's."

-Journal of Clinical Psychiatry
"It is detailed without being tedious. Occasional bits of humor give the text a welcome sparkle....Written in a lucid, unadorned style, with a minimum of technical language. It is easy to read, easy to understand, eminently practical, and comprehensive in its scope. The book is organized so that each topic leads naturally into the next. By the end of the book the reader will have a good foundational knowledge of how and why therapeutic frames are created, what boundaries are and why they are needed, how to avoid crossing or violating boundaries, what to do when such crossings or violations occur, how to deal with the aftermath of such crossings and violations, and how to protect both the patient and oneself from the repercussions that often ensue from such events. If you can make it through this book without recognizing some of your own mistakes, you haven't been reading closely....While the book is written primarily for psychiatrists, psychologists, and other types of counselors who operate within a well-defined therapeutic frame, it is also a valuable resource for anyone whose vocation involves pastoral care, pastoral counseling, or simply making rounds as a hospital chaplain....This book deserves a close and attentive reading. Individual portions of the book should be read more than once. It would be a valuable resource for anyone in both the therapeutic or pastoral fields. Given its accessibility, it would make an excellent addition to any therapist's or pastoral caregiver's library. The authors deserve thanks and praise for their achievement."

-Journal of Pastoral Care and Counseling
"This excellent book will appeal to novice and veteran therapists alike....It is convenient and extremely useful to have such a comprehensive and well referenced treatment of the subject available in a single volume....Therapists will ignore the wisdom of this book at their—and their patients'—peril."

-Journal of Psychiatric Practice
"This book is a scholarly and comprehensive approach to the subject of boundary violations....The authors are both very well versed on the subject, write in a clear and engaging style, and invite the reader to continue the exploration of their discourse beyond the knowledge possessed by the reader. It will appeal to the novice differently than to the seasoned professional, but it will enrich both in their knowledge of prevention of boundary violations....An excellent addition to the literature on the subject, this book is a must for the beginner and the expert. It reminds us of how challenging and meaningful our profession is, and how crucial it is to comprehend the multifaceted subject of boundaries within a fiduciary relationship."

-Journal of the American Academy of Psychoanalysis and Dynamic Psychiatry
"Two highly regarded practitioners in the field of forensic psychiatry, who also specialize in the study of ethical and legal aspects of mental health delivery systems, have brought us an illuminating and highly readable guidebook to risk management in psychotherapy. With an unflinching examination of the behaviors and practices that can result in the sexual exploitation of patients, the book lays out the .practical challenges faced by clinicians in maintaining boundaries in today's institutional, regulatory, and legal environment'....[It] is a thorough and useful guidebook and reference for the practitioner. As the most current review of the clinical, ethical, and legal requirements for good clinical practice across disciplines and theoretical orientations, this book is highly recommended for inclusion in the curricula of mental health training programs. In fact, as the authors note, boundary violations can occur in any setting; therefore, all providers of direct patient care would benefit from reading this book."

-APA PsycCRITIQUES
"The book is clearly written and neatly organized in three sections....The book contains numerous anecdotes taken from the authors' experiences....Offers down-to-earth guidance in an accessible and interesting format, making theoretical notions come to life for use in everyday practice."

-New England Journal of Medicine
"Gutheil and Brodsky have done an outstanding job. Reading this book is like taking a course with the authors, who demonstrate great wisdom and perspicacity as they build the reader's awareness, elucidate what constitutes a boundary violation, and provide strategies for prevention. In today's litigious climate, in which clinical practitioners need to remain so mindful of their professional role, this book is a welcome contribution. I highly recommend this resource to everyone from students to seasoned professionals."

-Frank M. Dattilio, PhD, ABPP, Department of Psychiatry, Harvard Medical School and University of Pennsylvania School of Medicine
"At last, therapists have a clear, comprehensive, practical guide to the boundary decisions facing each of us throughout every course of therapy. Two foremost authorities discuss the full range of boundary issues—time, place, fee, gifts, self-disclosure, touch, documentation, causes and responses to false complaints, avoiding problems and misunderstandings, and so on—in light of the patient's condition and needs, benefits and risks, research, legal standards and liabilities, and varying theoretical orientations. No practicing therapist, training program, or expert witness should be without this essential resource."

-Kenneth S. Pope, PhD, ABPP, coauthor of Ethics in Psychotherapy and Counseling: A Practical Guide, Third Edition
"This is an excellent volume. I'm pleased to see that it immediately addresses 'transference atheists,' psychotherapists whose theoretical models allow them to pretend that a therapist holds no special power or responsibility in the relationship. The authors' willingness to make clear that clinical practice of mental health occurs within boundaries—whether one practices CBT, prescribes medication, is covering for the treating provider, or does in-depth, transference-based work—is wonderful to encounter. The clarity of the writing makes this book accessible both for beginning therapists and for those of us who are more experienced and think we know better—but often don't."

-Laura S. Brown, PhD, ABPP, Director, Fremont Community Therapy Project, Seattle
"What is refreshing and exemplary about this superb book is that the authors appreciate the pervasive ambiguity and uncertainty that are inherent in clinical decisions involving boundaries. A gesture that saves the therapy in one context can destroy the therapy in another context. Each chapter of this rich volume is filled with clinical wisdom and thoughtful risk management strategies that will be of great assistance to both mental health trainees and experienced psychotherapists."

-Glen O. Gabbard, MD, Brown Foundation Chair of Psychoanalysis and Professor of Psychiatry, Baylor College of Medicine