Home
»
Collaborative Case Conceptualization: Working Effectively with Clients in Cognitive-Behavioral Therapy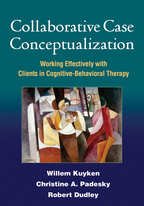 Collaborative Case Conceptualization
Working Effectively with Clients in Cognitive-Behavioral Therapy
Willem Kuyken, Christine A. Padesky, and Robert Dudley

| | |
| --- | --- |
| Listen to an interview with the authors: | |

"The text is well structured and themes develop in such a way as to be accessible and meaningful to clinicians of varying experience....Provides a sound foundation in the development of an essential skill set."

-Mental Health Occupational Therapy
"A book which makes case conceptualization immediately accessible to clinicians....Kuyken and colleagues demonstrate a keen cultural alertness when conceptualizing problems and intervening with clients. The book is beautifully written and cogently organized. Kuyken and colleagues brilliantly detail a layered approach to case conceptualization....The writing style is engaging and accessible....Readers can tell they are in the presence of gifted clinicians and teachers when reading the book. There is a palpable intimacy in the words, case examples, and teaching tools....The many clinical examples come to life with engaging dialogues."

-Journal of Contemporary Psychotherapy
"An important and timely book that will be of great interest to clinicians and researchers. CBT texts rarely provide detailed guidance on conceptualization. Written by internationally recognized experts, this book fills the gap by providing clinicians with numerous insightful tips about how to develop conceptualizations, and, crucially, how to link those conceptualizations to interventions. Ways of teaching conceptualization are outlined, and a much-needed research agenda for the area is advanced. A major achievement."

-David M. Clark, DPhil, Institute of Psychiatry, Kings College London, United Kingdom
"The authors have combined their impressive strengths as CBT practitioners, teachers, and researchers to develop a new, empirically grounded model of case conceptualization. At its core is a collaborative relationship between therapist and client and an explicit focus on recognizing and building client resilience. This model is a flexible tool that will aid therapist, client, and supervisor throughout therapy. Rich with case examples, the book will be a welcome addition to graduate courses on psychotherapy or case formulation."

-Tracy D. Eells, PhD, Department of Psychiatry and Behavioral Sciences and Associate Dean for Faculty Affairs, University of Louisville School of Medicine
"This book sets a gold standard for how to develop individualized case conceptualizations with our clients. While cognitive therapy has always emphasized partnership between therapist and client, Kuyken, Padesky, and Dudley demonstrate a radical commitment to collaboration that brings new insights into how the client can be at the center of every therapy. I was especially delighted by the three-chapter demonstration of how conceptualization occurs over time with a single client. Offering a real-world illustration of the approach, this in-depth example shows how conceptualizations can evolve to become both more encompassing and simpler. Another innovative hallmark of the authors' model is its incorporation of client strengths at each stage. This book is destined to be one of the most important and widely used works on case conceptualization for many years to come."

-Aaron T. Beck, MD, University Professor Emeritus of Psychiatry, University of Pennsylvania Medical School
"What a marvelous addition to the conceptualization literature! This intriguing book compellingly fuses theoretical acuity, in-depth research understanding, and true clinical creativity. Extended case examples bring the text vividly to life, and the innovative emphasis on fostering clients' resilience and strengths adds a unique dimension to conceptualization work. An essential guide for the novice and a rich source of new ideas and inspiration for experienced cognitive therapists."

-Melanie Fennell, PhD, Department of Psychiatry, University of Oxford, UK