Home
»
Videos
»
Psychotherapy

Print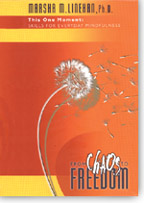 Check out a
sample clip
from the DVD!

Sign up to receive
e-Alerts
on new titles on Mindfulness from Guilford Press, including exclusive offers.

P
ioneering clinician and researcher Marsha M. Linehan brings her therapeutic wisdom and down-to-earth style directly to clients in these five outstanding skills training videos. Anyone who has attended Linehan's professional workshops can attest to her masterful instructional approach and empathic presence. Now clients can experience Linehan's teaching first-hand with these easy-to-follow programs enhanced by engaging audiovisual effects. Demonstrated are simple yet powerful techniques for emotion regulation as clients are guided to develop new patterns of behavior and practice them in everyday life. Grounded in the concepts and procedures presented in Linehan's bestselling books, the videos are designed for use on their own or in conjunction with the Skills Training Manual. They are also ideal viewing for clinicians and students seeking to develop their skills training expertise.
This One Moment
:
We're often so caught up in our insecurities and fears--thinking about the past or worrying about the future--that we miss the very moment we're in. Integrating practical wisdom from Eastern and Western traditions, this program helps clients learn and practice six fundamental skills for living fully and consciously in the present.
Videos on DVD are formatted in NTSC format but are readable on most DVD players in any region and are not encoded.
See also Linehan's related videos—
Crisis Survival Skills, Part One
,
Crisis Survival Skills, Part Two
,
From Suffering to Freedom
, and
Opposite Action
—plus the
Skills Training Manual for Treating Borderline Personality Disorder
, which provides detailed guidance and reproducible materials for conducting DBT skills training.