Home
»
Psychology, Psychiatry, & Social Work
»
Addictions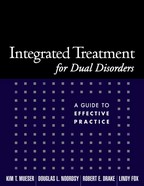 "This book is not written specifically for or by social workers; however, it provides clear, contemporary discussions of practice principles with great relevance and applicability to the social work profession....One of the great strengths of this book lies in its presentation of conceptual frameworks and models related to substance abuse and psychiatric illness....Overall, this book is interesting, well written, and well researched. It would be useful for social work educators seeking basic tools for MSW practice/field courses and for specialized doctoral-level social work education. It is also a good resource for social work students and social work practitioners who want up-to-date training about substance abuse, severe mental illness, and to know what happens when these are experienced together."

-Journal of Social Work Practice in the Addictions
"A professor designing a graduate course to investigate how the criminal justice system deals with mentally ill people should certainly include [this book]....Provide[s] basic technical knowledge about service delivery in general, information on specific groups of people, and information about specific disorders and treatments. Correctional staff members who need information about service delivery are well advised to consult [this book]....Provide[s] a wealth of technical information and also provide[s] a good staring point by which to understand correctional health care....Provide[s] needed, valuable information about the mental health and criminal justice interface."

-Criminal Justice Review
"Offers a comprehensive guide to the unified treatment of an often overlooked population. The information contained in this publication will enable mental health professionals and facilities to design and implement a treatment program tailored to the special needs of the dual-disordered individual. The authors provide uncommon insight into the challenges of comorbid psychiatric and substance use disorders front the differing perspectives of the client, the family, and the clinician."

-Journal of Cognitive Psychotherapy
"Providing meaningful help to the addicted client with major mental illness is the most difficult and challenging task that mental health clinicians face. Mueser and colleagues have provided us with a truly helpful and empowering guide. It is the best book in its field."

-George E. Vaillant, MD, Harvard Medical School
"Written by the experts on the topic, it is a comprehensive, well-written, state-of-the-art manual that explains what needs to be done and then describes how it should be done. This book should find a home in every mental health program that works with dually diagnosed clients, and should be required reading for every new clinician and program administrator."

-Alan S. Bellack, PhD, ABPP, VA Capitol Health Care Network and Department of Psychiatry, University of Maryland School of Medicine
"Individuals with severe mental illness and substance abuse are the most neglected group of psychiatric patients. This comprehensive textbook fills a major void and will be infinitely useful to clinicians, administrators, and clinicians-in-training. The authors have a national reputation for pioneering efforts to develop treatment models, and they have laid out a detailed plan for the rest of us to follow. Finally, clinicians have a cure for their dual diagnosis despair!"

-E. Fuller Torrey, MD, The Stanley Medical Research Institute, Bethesda, Maryland
"An outstanding resource for clinicians. The text is remarkable for its comprehensiveness, clarity, practical suggestions, and wealth of reproducible forms and handouts. Social workers will find the book especially useful, as it covers many aspects of treatment that are frequently overlooked, such as case management, family work, residential programs, and employment. This book will serve as a blueprint for providing integrated treatment for dual disorders."

-Susan Gingerich, MSW, independent consultant and trainer, Narberth, Pennsylvania