Home
»
Self-Help & General Interest
»
Parenting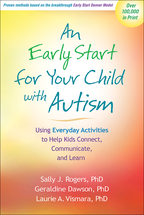 An Early Start for Your Child with Autism
Using Everyday Activities to Help Kids Connect, Communicate, and Learn
Sally J. Rogers, Geraldine Dawson, and Laurie A. Vismara

"[The authors] present a program that can help parents of children with autism begin therapy at home, even without a professional therapist. Techniques are presented clearly, along with examples of activities that can be incorporated into everyday home life with the aim of achieving goals like improving communication skills or promoting play with other children....This is a valuable tool for parents of children with ASD who want to maximize learning in the home."

-Library Journal
"Parents are going to love this book! It translates the important work of the Early Start Denver Model into strategies that can be implemented at home. The book shows how parents everywhere can give their children with autism spectrum disorders the support they need to learn to communicate and play."

-Ilene Schwartz, PhD, Director, Haring Center for Applied Research and Training in Education, University of Washington, and coauthor of Building Blocks for Teaching Preschoolers with Special Needs
"I was so overwhelmed when my child was diagnosed. This book is the road map I needed, written by experts I trust."

-Laura Shumaker, author, San Francisco Chronicle autism blog
"A remarkable achievement. Drs. Rogers, Dawson, and Vismara have succeeded in translating the latest and best scientific evidence into practical suggestions for improving your child's social and communication skills. They write with clarity, insight, and even humor. This is a book you will prize highly."

-Peter Szatmari, MD, author of A Mind Apart: Understanding Children with Autism and Asperger Syndrome
"Easy to read, highly informative, and packed with useful strategies, this is a wonderful resource for parents."

-Fred R. Volkmar, MD, coauthor of A Practical Guide to Autism