Home
»
Education
»
Practical Intervention in the Schools Series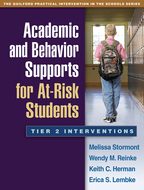 "One of the biggest challenges for educators is what effective interventions for students who do not respond to schoolwide initiatives should look like. This book helps to close the research-to-practice gap by giving specific, effective steps schools can take to support learning for the struggling and at-risk students in Tier 2. The practices presented here can help to improve our teaching, our partnerships, and, ultimately, our students' futures."

-Becky Schubkegel, MEd, special educator, Independence, Missouri
"Many schools have a good handle on instruction and methods for Tiers 1 and 3, yet intervening in Tier 2 seems to remain a mystery! This guide provides specific, practical examples for Tier 2 academic and behavioral interventions that will be extremely helpful to implementers of RTI."

-Amber Del Gaiso, EdS, progress monitoring data coach, Special School District, St. Louis County, Missouri
"This book is like the missing link in resources for RTI and positive behavior support, which typically focus on either the bottom (Tier 1) or top (Tier 3) of the triangle. It is the most comprehensive and clearly written resource on Tier 2 that I have seen. It instantly will become an important reference for the field."

-Terrance M. Scott, PhD, Professor and Distinguished University Scholar, College of Education and Human Development, University of Louisville
"Providing invaluable tools for understanding and implementing Tier 2 interventions, this book is a unique contribution to the literature. I recommend it to educators implementing multi-tiered prevention systems in their schools. In addition, I plan to use it as a text in graduate-level courses dealing with school consultation and systems change."

-Cynthia M. Anderson, PhD, Professor and Head, Department of Special Education and Clinical Sciences, University of Oregon