Home
»
PTSD and Mild Traumatic Brain Injury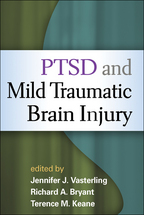 "Assessment, treatment, and the costs of delivering care are summarized in a pragmatic and comprehensive manner. This volume is a timely, compact, and remarkably current resource for those who deal with such patients, providing the bases for knowledgeable decisions about how to proceed."

-Quarterly Review of Biology
"Many of the most active and respected researchers in the fields of mTBI and PTSD explain the current state of knowledge and explore the known issues. These include researchers long considered experts in the field, such as the editors of the volume, Jennifer Vasterling, Richard Bryant, and Terence Keane, as well as researchers more recently making significant contributions, including Mark Gilbertson, Erin Bigler, and Lisa Najavits. This volume takes a comprehensive approach to understanding the relationship between PTSD and mTBI, examining their impact on psychological and behavioral symptoms, cognitive functioning, brain structure and function, assessment, and treatment....Provid[es] a comprehensive overview of the state of the science as it applies to PTSD and mTBI in a logical and useful manner with surprising success, given the complexities and uncertainties that currently exist in the field. Students and individuals new to the fields will certainly benefit from the vast amount of information condensed into a single volume. Providers already working in the field will also benefit from the integration and interpretation of the most recent research into a text that is easy to read and reference. Chapters are written in an easy-to-follow style without reliance on jargon, rendering a text that is approachable, yet appropriately detailed and informative for the practicing psychologist to benefit from as well....A well-written and well-edited text that is destined to find a home on the bookshelves of many psychologists, no matter their area of expertise."

-PsycCRITIQUES
"The editors assembled an impressive array of contributors and created a comprehensive volume....This is an outstanding volume, the content of which is essential for any provider to understand when addressing either of these conditions alone or in combination....A major contribution to the field, pulling together disparate resources and presenting them in a manner that is immediately usable by a wide range of practitioners. It will certainly help neuropsychologists navigate these difficult symptom presentations as they conduct assessments of these individuals. The volume is geared to provide valuable information to providers throughout the entire spectrum of care, from acute management and early intervention, to informed assessment practices, and finally to longer term empirically validated treatments. This volume may easily be considered one of the key resources on PTSD and mTBI/concussion at this time."

-Archives of Clinical Neuropsychology
"Will it serve as a useful resource for clinicians who encounter patients with PTSD and comorbid MTB-PTSD? Yes. I came away learning a few important bits of information, which I anticipate will impact both my clinical and forensic practice. For that reason alone, I benefitted from reading this text. I expect examinees and referrals sources will also benefit from my having acquired this additional knowledge. In that respect, reading this book was 'win-win' (with no downside) for all concerned."

-The Clinical Neuropsychologist
"This one-of-a-kind book from prominent international experts provides a scholarly and practical synthesis of the complex interaction between PTSD and mTBI. Clearly written chapters provide state-of-the-art information and clinical guidance on assessment and management in both civilian and military settings. Practitioners, researchers, educators, and trainees (students and residents) in the fields of mental health, neurology, and rehabilitation medicine all will benefit greatly from reading this book and having it as an essential reference on their bookshelves."

-Jesse R. Fann, MD, MPH, Departments of Psychiatry and Behavioral Sciences, Rehabilitation Medicine, and Epidemiology, University of Washington
"Vasterling, Bryant, and Keane have assembled an outstanding group of experts to provide a conceptual, scientific, and clinical overview of this daunting challenge. Co-occurring PTSD and mTBI unfortunately has emerged as a common problem for many service members and veterans in recent years. Since PTSD and mTBI affect each other, it is imperative that clinicians treat them concurrently, and do so within a multidisciplinary context. This book provides a thoughtful, comprehensive review of what we know, what we don't know, and what we need to do to fill in the blanks. It should be mandatory reading for anyone in the field."

-Matthew J. Friedman MD, PhD, Executive Director, National Center for PTSD, U.S. Department of Veterans Affairs; Professor of Psychiatry and Pharmacology and Toxicology, Dartmouth Medical School
"Clinicians and scientists alike are certain to welcome this volume, which meets a real need in presenting a comprehensive review of the basic and clinical science of PTSD and mTBI. The biopsychosocial conceptual framework provides a perfect translational bridge to evidence-based clinical management. The book will rapidly become the reference of choice for clinicians facing the complexities of these two conditions and for students in the neurosciences."

-Michael McCrea, PhD, ABPP, Professor and Director of Brain Injury Research, Departments of Neurosurgery and Neurology, Medical College of Wisconsin
"The association between PTSD and mTBI is a vexing problem. This volume provides much-needed clarification and direction for clinicians and researchers alike. It brings together leading authorities who provide critical insights, making it an invaluable resource. The book has particular relevance for those treating service members and veterans."

-Alexander C. McFarlane, MD, Director, Center for Traumatic Stress Studies, University of Adelaide, Australia