Home
»
Handbook of Self-Knowledge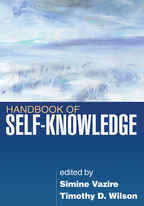 Handbook of Self-Knowledge
Edited by Simine Vazire and Timothy D. Wilson

"This is a terrific presentation of research and theory on one of the most pervasive and fundamental concerns—what people know about themselves. A dizzyingly diverse array of perspectives from leading scholars makes this a wonderful source for anyone interested in the topic. Even the best-informed experts will find this a valuable reference and will learn something new, while newcomers to the field should look no further for a book to bring them quickly and easily up to speed on the state of knowledge. Bravo to Vazire and Wilson and their stellar cast of contributing authors."

-Roy F. Baumeister, PhD, author of Willpower: Rediscovering the Greatest Human Strength
"This handbook fills a need for a comprehensive survey of the field of self-knowledge. It will be of interest to a wide range of psychologists with an interest in the roots of understanding one's own attitudes and dispositions. The book will serve as a lively text for undergraduate and graduate seminars."

-Richard E. Nisbett, PhD, Department of Psychology, University of Michigan