Home
»
Research Methods
»
Research Techniques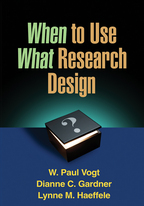 When to Use What Research Design
W. Paul Vogt, Dianne C. Gardner, and Lynne M. Haeffele

"A masterful and thorough presentation of 'when to use what.' From beginning to end, it is clear that you are reading the work of very accomplished researchers and educators. The authors use a particularly rich, colorful, and practical set of examples, including classic and contemporary research studies as well as wonderful day-to-day illustrations such as TV channel surfing to introduce the notion of sampling. Readers can pick and choose individual chapters or read straight through the entire book, depending on their needs. The summary tables are extraordinarily useful and can serve as a quick reference to chapter structure and content."

-Karen M. Staller, School of Social Work, University of Michigan
"I am recommending this book as the core text for our required methods course at the graduate level. The reader is taken on a tour of the main research designs employed by social scientists, including various quantitative and qualitative, experimental and observational, and primary and secondary data designs. Highlighting how decisions about research design should be influenced by the nature of the research question, the authors also acknowledge when other factors come into play, including financial and ethical considerations....I like how the authors talk about debates in the literature and how they point out typical/common shortcomings of different approaches. Their frank language gives the book the feel of a trusted advisor providing honest advice."

-Tracey LaPierre, Department of Sociology, University of Kansas
"This book is on an essential topic—the questions it tackles are incredibly important in the social sciences. It reads like a field guide to conducting good research. I would recommend it to advanced undergraduates who need a handy reference or to graduate students who want one resource for their basic design, sampling, and ethics questions. It is accessible and easy to read. The authors present the process of research as full of choices that are best tackled by an informed researcher—no choice is universally the best one."

-Theresa DiDonato, Department of Psychology, Loyola University Maryland
"The book is very well written and readable, a real plus! I really like the authors' premise that the research question determines the choice of method, rather than vice versa."

-Rosemary L. Hopcroft, Department of Sociology, University of North Carolina at Charlotte
"The use of questions as subheads is an effective pedagogical technique. Teaching students to turn a heading into a question and then reading the textbook section to find the answer to the question has a rich history as an instructional strategy."

-Susan Kushner Benson, College of Education, University of Akron