More than 60,000 in print!

Friedman's Fables
Paperback
e-book
print + e-book
Paperback
February 24, 2014
ISBN 9781462516704
Price: $23.00 $16.10
246 Pages
Size: 5½" x 8¼"
Copyright Date: 1990
order
Check out a special package offer including this title!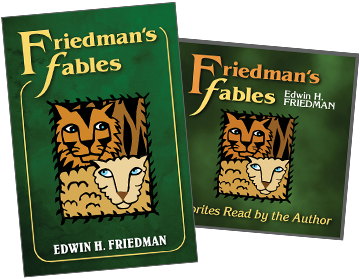 ---
E
dwin H. Friedman has woven 24 illustrative tales that offer fresh perspectives on familiar human foibles and reflect the author's humor, pathos, and understanding. Friedman takes on resistance and other "demons" to show that neither insight, nor encouragement, nor intimidation can in themselves motivate an unmotivated person to change. These tales playfully demonstrate that new ideas, new questions, and imagination, more than accepted wisdom, provide each of us with the keys to overcoming stubborn emotional barriers and facilitating real change both in ourselves and others. Thought-provoking discussion questions for each fable are included.
See also the downloadable audiobook,
Friedman's Fables: Favorites Read by the Author
, featuring 15 of the tales narrated in Dr. Friedman's inimitable style.
---
"The book had an unexpected effect. I found myself more creative in the therapy sessions that followed, almost as if I had been granted some internal form of permission to co-create a story alongside the stuck stories of so many of my clients.... The stories...had, in effect, stimulated my own story-telling ability."

—AFTA Newsletter
"I used a fable for my sermon, and you could have heard a pin drop by the end....I find the book thoroughly delightful and powerful."

—The Rev. Henry C. Galganowicz, Rector, Emmanuel Episcopal Church, Weston, Connecticut
---
Table of Contents
Prologue
THE FAILURE OF SYNTAX
The Bridge
A Nervous Condition
The Friendly Forest
'Round in Circles
Projection
Raising Cain
THE DEMONS OF RESISTANCE
The Power of Belief
An American Holly
Soaring
Net Results
Metamorphosis
The Curse
Interlude
BONDS AND BINDS
Symbiosis
Attachment
Jean and Jane
The Magic Ring
The Lesson
Cinderella
REPTILIAN REGRESSIONS
Caught in Her Own Web
The Wallflower
Panic
Burnout
Narcissus
Tradition
Epilogue
DISCUSSION QUESTIONS
---
About the Author
Edwin H. Friedman
, until his death in 1996, worked for more than 35 years in the Washington, DC, metropolitan area, and was in great demand as a consultant and public speaker throughout the country. A family therapist and ordained rabbi, Edwin H. Friedman was well known in the fields of mental health and pastoral education for his motivational style and his unique blend of systems thinking, humor, and common sense. He offered acclaimed workshops for mental health practitioners, clergy, business leaders, and others.
---
Audience
Family therapists and counselors; clergy; students and general readers.
---
Course Use
Serves as a supplemental text in graduate-level courses such as Pastoral Counseling and Pastoral Leadership.
---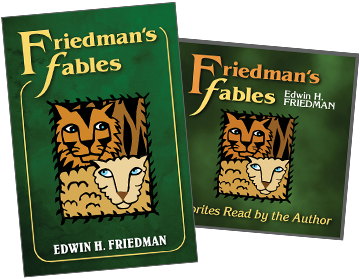 Special package offer: Friedman's Fables (print edition) features 24 playful tales that help therapists, clergy and their congregations, and general readers approach the challenges of change in a new way. The downloadable audiobook Friedman's Fables: Favorites Read by the Author presents 15 of the tales narrated in Dr. Friedman's inimitable style.
Order both items — a $41.00 value for $29.95!

order package
---
Previous editions published by Guilford:
First Edition, © 1990
ISBN: 9780898624557