Selecting the Right Analyses for Your Data
Quantitative, Qualitative, and Mixed Methods
Hardcover
Paperback
e-book
print + e-book
Hardcover
July 1, 2014
ISBN 9781462516025
Price: $118.00
500 Pages
Size: 7" x 10"
order
Paperback
July 2, 2014
ISBN 9781462515769
Price: $58.00
500 Pages
Size: 7" x 10"
order
Check out a special package offer including this title!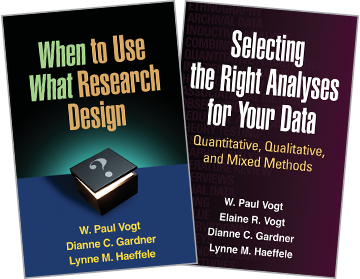 ---
W
hat are the most effective methods to code and analyze data for a particular study? This thoughtful and engaging book reviews the selection criteria for coding and analyzing any set of data—whether qualitative, quantitative, mixed, or visual. The authors systematically explain when to use verbal, numerical, graphic, or combined codes, and when to use qualitative, quantitative, graphic, or mixed-methods modes of analysis. Chapters on each topic are organized so that researchers can read them sequentially or can easily "flip and find" answers to specific questions. Nontechnical discussions of cutting-edge approaches—illustrated with real-world examples—emphasize how to choose (rather than how to implement) the various analyses. The book shows how using the right analysis methods leads to more justifiable conclusions and more persuasive presentations of research results.
User-Friendly Features
Chapter-opening preview boxes that highlight useful topics addressed.
End-of-chapter summary tables recapping the 'dos and don'ts' and advantages and disadvantages of each analytic technique.
Annotated suggestions for further reading and technical resources on each topic.
See also Vogt et al.'s
When to Use What Research Design
, which addresses the design and sampling decisions that occur prior to data collection.
---
"This book, along with
When to Use What Research Design
…is useful for researchers and advanced students in education, sociology, psychology, political science, and criminal justice. Recommended. Graduate students through professionals/practitioners."

—Choice Reviews
"This is the first book I've seen that goes into depth about coding, which is sorely needed. It also does an excellent job of discussing analysis and interpretation at a conceptual level, while providing enough guidance on where to go to get the needed technical assistance. The way the authors compare and contrast quantitative and qualitative methods, approaches, and ways of thinking is particularly strong and well balanced."

—Marji Erickson Warfield, PhD, Heller School for Social Policy and Management, Brandeis University
"This is a comprehensive resource that delivers what the title promises and more. It provides a great introduction to nearly all data-analytic methods currently utilized by social scientists, and very effectively guides the reader to more in-depth treatments of the subject matter."

—Ryan Spohn, PhD, School of Criminology and Criminal Justice, University of Nebraska at Omaha
"A field guide for researchers who are looking for detailed discussions of the choices they have to make as they work through the research process, whether they are taking a quantitative, qualitative, or combined approach. This isn't a 'how to' in terms of analyses, but more of a 'here's what to consider' book. The tone is at once casual and professional, incorporating real-world examples and occasional humor. The authors have their fingers on the pulse of the field and clearly explain complex ideas."

—Theresa E. DiDonato, PhD, Department of Psychology, Loyola University Maryland
"A useful text. Many students are stymied by data analysis; they think that you just feed data into some software, and voila! I recently told a student that saying a software package will analyze your data is akin to saying Word will write your dissertation. This book gives students data analysis options so they can choose the approach most appropriate for the specific research design."

—Janet Salmons, PhD, School of Business and Technology, Capella University
"The authors are masterful writers who combine depth and accessibility."

—Jerrell C. Cassady, PhD, Department of Educational Psychology, Ball State University
"This book exposes readers to a breadth of coding and analysis considerations for both quantitative and qualitative data. The goal is to teach the reader when it is appropriate to use the various techniques and where to look to learn more. The authors provide a solid foundation of knowledge for navigating a research world where both quantitative and qualitative approaches are valued and necessary. I would definitely use this book in courses. For professional use, I would consult it for areas I am not as familiar with, or to provide resources for students. I particularly enjoyed the nonstatistical examples used to explain concepts; they are helpful and make the book easier and more enjoyable to read."

—Tracey LaPierre, PhD, Department of Sociology, University of Kansas
---
Table of Contents
Preface
General Introduction
I. Coding Data—by Design
1. Coding Survey Data
2. Coding Interview Data
3. Coding Experimental Data
4. Coding Data from Naturalistic and Participant Observations
5. Coding Archival Data
II. Analysis and Interpretation of Quantitative Data
6. Describing, Exploring, and Visualizing Your Data
7. What Methods of Statistical Inference to Use When
8. What Associational Statistics to Use When
9. Advanced Associational Methods and Analyses
10. Model Building and Selection : Quantitative Data
III. Analysis and Interpretation of Qualitative and Combined/Mixed Data
11. Inductive Analyses of Qualitative Data: Ethnographic Approaches and Grounded Theory
12. Deductive Analyses of Qualitative Data: Comparative Case Studies and Qualitative Comparative Analysis
13. Coding and Analyzing Data from Combined and Mixed Designs
14. Conclusion
---
About the Authors
W. Paul Vogt
, PhD, until his death in 2016, was Emeritus Professor of Research Methods and Evaluation at Illinois State University, where he received both teaching and research awards. Dr. Vogt's areas of specialization included research design and data analysis, with particular emphasis on combining qualitative, quantitative, and graphic approaches. His books include
Selecting the Right Analyses for Your Data
and
When to Use What Research Design
.
Elaine R. Vogt
, MA, CAS, is certified as a school psychologist in New York and Illinois and has worked as a psychologist in schools and a variety of other public and private institutions. She recently retired from Illinois Wesleyan University, where she taught piano and was a staff accompanist. Ms. Vogt's research interests include cognitive psychology, especially music cognition.
Dianne C. Gardner
, PhD, is Associate Professor of Educational Administration and Foundations and a Research Associate at the Center for the Study of Education Policy at Illinois State University. Dr. Gardner's research interests include assessment, evaluation of collaborative professional learning systems, qualitative research methodology, and P-20 education systems. She serves as a program evaluator for state- and federally funded education programs.
Lynne M. Haeffele
, PhD, is a Senior Research Associate at the Center for the Study of Education Policy at Illinois State University and also serves as Education Policy Director in the Office of the Illinois Lieutenant Governor. She provides research, evaluation, policy analysis, and management expertise for various state and federal projects in P-20 education, and has served as a consultant to the U.S. Department of Education. Dr. Haeffele's research interests include combining research designs, applying research findings to policy and practice, program evaluation, and the topical areas of college readiness and completion, organizational performance, and school-university partnerships.
---
Audience
Researchers, instructors, and graduate students in a range of disciplines, including psychology, education, social work, sociology, health, and management; administrators and managers who need to make data-driven decisions.
---
Course Use
Will serve as a supplemental text in graduate-level courses in research design, research methods, and preparing the thesis/dissertation.
---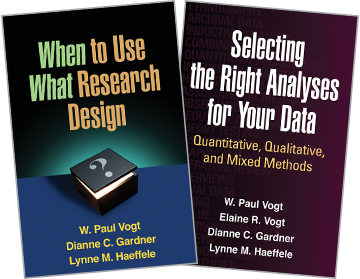 Special package offer: When to Use What Research Design addresses basic design and sampling decisions for any research project. Selecting the Right Analyses for Your Data tackles the next steps in coding, analysis, and interpretation.
Order both items for $74.95, instead of $106 if bought separately!

order package