Print
From Suffering to Freedom
Practicing Reality Acceptance
DVD
August 5, 2005
ISBN 9781933464022
Price: $65.00 $55.25
order
Check out a special package offer including this title!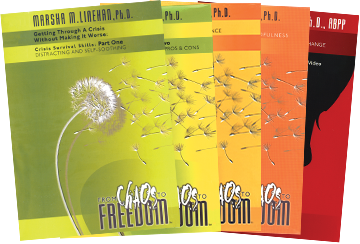 ---
Check out a
sample clip
from the DVD!
---
Sign up for
e-alerts
on upcoming titles on Dialectical Behavior Therapy (with special discounts)!
---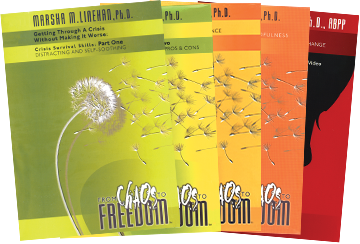 Special package offer: Order the complete set of Marsha Linehan's invaluable DBT skills training videos: Crisis Survival Skills: Part One: Distracting and Self-Soothing, Crisis Survival Skills: Part Two: Improving the Moment and Pros and Cons, From Suffering to Freedom: Practicing Reality Acceptance, This One Moment: Skills for Everyday Mindfulness, and Opposite Action: Changing Emotions You Want to Change.
Order all 5 items — a $309.00 value for $245.00!

order package