Opposite Action
Changing Emotions You Want to Change
DVD
March 8, 2007
ISBN 9781933464084
Price: $49.00
order
Check out a special package offer including this title!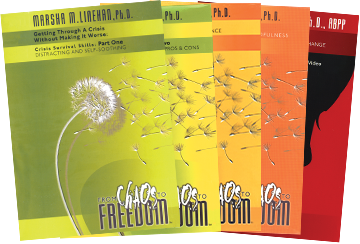 ---
P
ioneering clinician and researcher Marsha M. Linehan brings her therapeutic wisdom and down-to-earth style directly to clients in these five outstanding skills training videos. Anyone who has attended Linehan's professional workshops can attest to her masterful instructional approach and empathic presence. Now clients can experience Linehan's teaching first-hand with these easy-to-follow programs enhanced by engaging audiovisual effects. Demonstrated are simple yet powerful techniques for emotion regulation as clients are guided to develop new patterns of behavior and practice them in everyday life. Grounded in the concepts and procedures presented in Linehan's bestselling books, the videos are designed for use on their own or in conjunction with the Skills Training Manual. They are also ideal viewing for clinicians and students seeking to develop their skills training expertise.
Acting opposite to emotions is one of the most effective and efficient ways to change emotions you want to change. Whether it is by doing something nice for a person you are angry at, or approaching something that you fear, this video shows how taking opposite action can modify unwarranted negative emotions and make them feel more manageable.
See also Linehan's related video—
Crisis Survival Skills: Part One
,
Crisis Survival Skills: Part Two
,
From Suffering to Freedom
, and
This One Moment
—plus
DBT Skills Training Manual, Second Edition
, and
DBT Skills Training Handouts and Worksheets, Second Edition
, which provide detailed guidance and reproducible materials for conducting DBT skills training.
---
"FABULOUS! The tapes can be very helpful to individuals new to dialectical behavior therapy (DBT) as well as those who are more familiar with DBT skills. The video series is beneficial to both clinicians and clients. I have been teaching DBT skills for over 8 years and to have the opportunity to watch Dr. Linehan teach the skills will assist me in teaching the skills more effectively. The video series has also provided me with new ideas for various teaching points. The videos are very clear and concise in the teaching style as well as humorous!"

—Gwen Anney-Cunningham, CSW
"Dr. Linehan has once again done a masterful job of explaining the concepts in a very understandable manner. I have been teaching this material for 9 years, and by watching these videos, was still able to pick up a number of pointers about teaching it more effectively. I have loaned the videos to clients, and they found them helpful not only for themselves, but they also shared them with other DBT clients and groups. This video series is a great addition to my tool kit to use with my clients (and peers!)."

—Beverly Long, DBT Training Coordinator
---
About the Author
Marsha M. Linehan
, PhD, ABPP, the developer of dialectical behavior therapy (DBT), is Professor Emeritus of Psychology and Director Emeritus of the Behavioral Research and Therapy Clinics at the University of Washington. Her primary research interest is in the development and evaluation of evidence-based treatments for populations with high suicide risk and multiple, severe mental disorders. Dr. Linehan's contributions to suicide research and clinical psychology research have been recognized with numerous awards, including the University of Louisville Grawemeyer Award for Psychology and the Career/Lifetime Achievement Award from the Association for Behavioral and Cognitive Therapies. She is also a recipient of the Gold Medal Award for Life Achievement in the Application of Psychology from the American Psychological Foundation and the James McKeen Cattell Award from the Association for Psychological Science. In her honor, the American Association of Suicidology created the Marsha Linehan Award for Outstanding Research in the Treatment of Suicidal Behavior. She is a Zen master.
---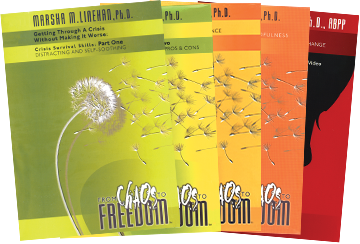 Special package offer: Order the complete set of Marsha Linehan's invaluable DBT skills training videos: Crisis Survival Skills, Part One, Crisis Survival Skills, Part Two, From Suffering to Freedom, This One Moment, and Opposite Action.
Order all 5 items for $224.95, instead of $309 if bought separately!

order package
---