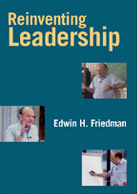 Reinventing Leadership
DVD
April 9, 2007
ISBN 9781593855758
Price: $110.00 $93.50
53 Pages
42-Minute DVD + Study Guide
order
---
T
his compelling video program distills the ideas and insights offered in the late Dr. Edwin H. Friedman's acclaimed workshops on leadership. Drawing on his extensive experience with families and religious congregations—and broadening the focus to encompass larger organizations as well—Dr. Friedman shares essential insights into why systems become "stuck," who makes change happen, and how. The program includes segments from actual seminars, on-camera discussions with Dr. Friedman and with workshop participants, and a companion study and discussion guide.
---
"The video is extremely well done and is an excellent overview of Friedman's ideas. The minute I saw the video, I wanted a copy of it then and there. As a Professor of Education and Department Chair of Educational Leadership at Arkansas State University, I'm interested in applying family systems concepts and principles to leadership and to emotional processes and organizations. Dr. Friedman has a unique perspective on leadership. His ideas are extremely thought-provoking....I plan to show the video to my students this fall as an introduction to Friedman's thinking. Anyone who sees the video is definitely going to want a copy of the book!"

—David W. Cox, EdD, Arkansas State University
"No one I know has thought more deeply and more creatively about what it means to be an innovative and effective leader than Dr. Edwin Friedman. This video clearly presents Dr. Friedman's complex and insightful thinking and presents it in a way that makes it easily accessible to everyone. Any leader in any organization will find this video to be a powerful resource for his or her growth as a leader."

—R. Kevin LaGree, former president, Simpson College
"Dr. Friedman's video,
Reinventing Leadership
, sends the powerful and welcome message that leaders at all levels who: communicate their own beliefs, stay in contact with their people, and stay calm, can be more effective that those follow many of the popular leadership fads. Dr. Friedman's videotape is a powerful and refreshing challenge to many current leadership notions. It advocates increased 'trust in self' for leaders. Leaders at every level in all types of organizations would benefit from this tape."

—Edwin S. Cox, PhD, President, Phillips Graduate Institute, Encino, California
"Ed Friedman has a provocative and humorous style of bringing compelling truths and dilemmas of leadership into the light. How could anyone consider leadership without knowing this essential information from Ed Friedman? We teach and develop leaders at our institute. Ed Friedman's theories and wisdom provide the centerpiece for our curriculum. I can't imagine complete leadership education without this profound information."

—Brenda J. Kerr, former president, The Leadership Institute of Seattle
---
About the Author
Edwin H. Friedman
, until his death in 1996, worked for more than 35 years in the Washington, DC, metropolitan area, and was in great demand as a consultant and public speaker throughout the country. A family therapist and ordained rabbi, Dr. Friedman was well known in the fields of mental health and pastoral education for his motivational style and his unique blend of systems thinking, humor, and common sense. He offered acclaimed workshops for mental health practitioners, clergy, business leaders, and others.