Dialectical Behavior Therapy for Binge Eating and Bulimia
Hardcover
Paperback
e-book
print + e-book
Hardcover
May 20, 2009
ISBN 9781606232651
Price: $92.00
244 Pages
Size: 7" x 10"
order
Paperback
February 3, 2017
ISBN 9781462530373
Price: $30.00
244 Pages
Size: 7" x 10"
order
Check out a special package offer including this title!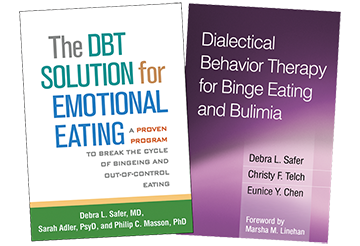 ---
T
his groundbreaking book gives clinicians a new set of tools for helping people overcome binge-eating disorder and bulimia. It presents an adaptation of dialectical behavior therapy (DBT) developed expressly for this population. The treatment is unique in approaching disordered eating as a problem of emotional dysregulation. Featuring vivid case examples and 32
reproducible
handouts and forms, the book shows how to put an end to binge eating and purging by teaching clients more adaptive ways to manage painful emotions. Step-by-step guidelines are provided for implementing DBT skills training in mindfulness, emotion regulation, and distress tolerance, including a specially tailored skill, mindful eating. Purchasers get access to a Web page where they can download and print the reproducible handouts and forms in a convenient 8½" x 11" size.
See also the related self-help guide,
The DBT Solution for Emotional Eating
, by Debra L. Safer, Sarah Adler, and Philip C. Masson, ideal for client recommendation.
---
"The authors present a well-written and practical approach to the treatment of bulimia nervosa and binge eating. They cover rationale for the use of DBT in this population and clearly define assessment and implementation of the skills of Mindfulness, Emotion Regulation, and Distress Tolerance. Each of these skills has an excellent description of how to present material in a group format, including potential exercises....The authors also interject excellent case material throughout the book that helps the reader understand how the strategies can be successfully administered. Additionally, the final chapters review the potential for DBT with eating disorders such as anorexia nervosa and the future directions of this intervention. Overall, this is a highly readable and well-organized book that helps those interested in treating bulimia nervosa and binge eating disorder to develop new skills in treatment."

—Journal of Clinical Psychiatry
"A much needed resource for professionals treating eating disorders. It very clearly details another effective, evidence-based treatment for BED and BN. Those therapists with a firm understanding of CBT and DBT could use this book to adapt their skills to treat clients with eating disorders. Those who already treat eating disorders could, with a commitment to understanding all of the skills and techniques of DBT, use this book to augment their armamentarium and improve their efficacy in treating this difficult population."

—Journal of Psychiatric Practice
"The book aims to be useful to both therapists trained in DBT with little or no experience of working with eating disorders and therapists working with eating disorders with no experience of DBT....Each chapter suggests homework practice and therapist interventions, with an array of handouts and worksheets to support and enhance the work being done in therapy. The book offers useful case study accounts, which illustrate the model and its techniques and structure. This book is a must-have for anyone working with eating disordered behaviours."

—Addiction Today
"Well written and easy to read, and is a useful resource for practitioners, researchers, and students. In particular, this book will be helpful for those who have experience with DBT but have little knowledge of eating disorders, in addition to those who are seasoned in treating eating disorders but are not trained in DBT....The step-by-step guidelines, discussion points, and case examples are refreshing and informative. The authors should be congratulated for staying adherent to DBT while also adapting the skills discussed and the handouts to be used, targeting them for individuals with BED or BN....A refreshing and extremely well-written book....The combination of illustrative case examples, experiential exercises to increase mindful eating, discussion points, and handouts, serves to help clinicians actually apply this treatment, not just read about it. I highly recommend this book for clinicians looking to apply DBT to clients with binge-eating disorder or bulimia, as this groundbreaking work is a valuable merger of DBT and treatment for eating disorders."

—PsycCRITIQUES
"Safer et al. have done pioneering work adapting DBT to the treatment of eating disorders. This book provides a comprehensive yet practical and user-friendly guide for clinicians working with these patients. The authors are to be congratulated for providing a mechanism for the dissemination of this empirically validated treatment. Very highly recommended."

—James E. Mitchell, MD, The Lee A. Christoferson Chair in Neuroscience Research and Chester Fritz Distinguished University Professor, University of North Dakota School of Medicine and Health Sciences
"This well-written book, which has been eagerly awaited by both the DBT and eating disorders communities, is a real gem to add to any clinician's shelf. It will be equally useful to DBT-trained clinicians and to others interested in empirically validated treatments for bulimia and binge-eating disorder. The book has immense instructional potential. Session-by-session descriptions of the treatment will help trainees feel as though they are 'doing it right,' even with their first patient."

—Lucene Wisniewski, PhD, Clinical Director, Cleveland Center for Eating Disorders
"DBT has shown promise for treating disordered eating, but a detailed manual that describes how to adapt DBT protocols for this population has been sorely needed by clinicians and treatment researchers. Safer, Telch, and Chen, three distinguished experts, have succeeded in meeting this important need."

—Daniel Le Grange, PhD, Benioff UCSF Professor in Children's Health, Department of Psychiatry, University of California, San Francisco; Emeritus Professor of Psychiatry and Behavioral Neuroscience, The University of Chicago
"This book will be a helpful resource for clinicians who treat eating disorders but who are not yet trained in DBT, as well as those who are already familiar with DBT. It offers clear instructions for meeting the treatment needs of people with bulimia and binge-eating disorder. Clinicians can readily pick up and use this manual with their clients."

—Shari Manning, PhD, President, Behavioral Tech, LLC; Department of Psychology, University of Washington
---
Table of Contents
Introduction
1. Binge-Eating Disorder and Bulimia Nervosa: Why Dialectical Behavior Therapy?
2. Orientation for Therapists
3. The Pretreatment Stage: The Pretreatment Interview and Introductory Sessions
4. Mindfulness Core Skills
5. Emotion Regulation Skills
6. Distress Tolerance Skills
7. Final Sessions: Review and Relapse Prevention
8. Illustrative Case Examples
9. Future Directions
Appendix. Information for Researchers
---
About the Authors
Debra L. Safer
, MD, ABPN, is Assistant Professor in the Department of Psychiatry and Behavioral Sciences at Stanford University Medical Center. Dr. Safer attended medical school at the University of California, San Francisco, followed by a residency in psychiatry at Stanford University. Her postdoctoral fellowship was also at Stanford, where she worked closely with W. Stewart Agras, MD, and his eating disorders research team. Dr. Safer's research and clinical work focus on treating eating disorders in adults and adolescents utilizing DBT and other empirically validated treatments.
Christy F. Telch
, PhD, is in private practice in Palo Alto, California. Dr. Telch obtained her PhD in counseling psychology from Stanford University. She joined Stanford's Department of Psychiatry and Behavioral Sciences, where she established a national reputation for her research on eating disorders. In 1997, Dr. Telch received a grant from the National Institute of Mental Health to adapt DBT for the treatment of binge-eating disorder. Her subsequent research and treatment manual,
Emotion Regulation Skills Training Treatment for Binge Eating Disorder
, are the basis for this book.
Eunice Y. Chen
, PhD, is Assistant Professor in the Department of Psychiatry and Behavioral Neurosciences at the University of Chicago, where she runs a DBT program for adults with eating disorders. Dr. Chen received her PhD in clinical psychology from the University of Sydney, Australia. She subsequently completed postdoctoral fellowships at Yale University and at the University of Washington, with Marsha M. Linehan, PhD.
---
Audience
Clinical psychologists, psychiatrists, social workers, and other mental health practitioners who treat patients with eating disorders.
---
Course Use
May serve as a text in graduate-level courses and clinical practica.
---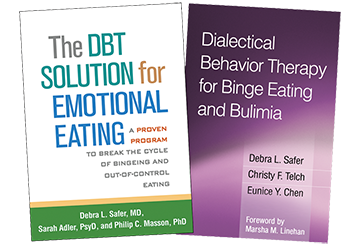 Special package offer: Dialectical Behavior Therapy for Binge Eating and Bulimia gives clinicians step-by-step guidelines for implementing the authors' innovative adaptation of DBT. The related self-help guide The DBT Solution for Emotional Eating is ideal for client recommendation.
Order both items for $34.95, instead of $48.95 if bought separately!

order package