The Art and Science of Personality Development
Hardcover
Paperback
e-book
print + e-book
Hardcover
February 19, 2015
ISBN 9781462519958
Price: $82.00
368 Pages
Size: 6" x 9"
order
Paperback
October 26, 2016
ISBN 9781462529322
Price: $32.00
368 Pages
Size: 6" x 9"
order
Check out a special package offer including this title!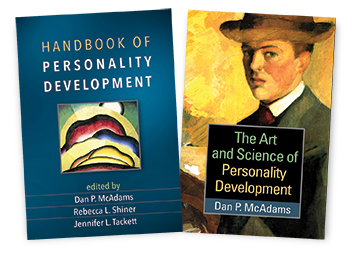 ---
D
rawing on state-of-the-art personality and developmental research, this book presents a new and broadly integrative theory of how people come to be who they are over the life course. Preeminent researcher Dan P. McAdams traces the development of three distinct layers of personality—the social actor who expresses emotional and behavioral traits, the motivated agent who pursues goals and values, and the autobiographical author who constructs a personal story. Highly readable and accessible to scholars and students at all levels, the book uses rich portraits of the lives of famous people to illustrate theoretical concepts and empirical findings.
See also the
Handbook of Personality Development
, edited by Dan P. McAdams, Rebecca L. Shiner, and Jennifer L. Tackett.
---
"By merging personality research and a developmental perspective, McAdams invites readers on a journey of understanding who people come to know themselves to be at all phases of life….This book will be particularly useful for professionals/practitioners working with individuals struggling with issues of identity and/or personality. Highly recommended. All readers."

—Choice Reviews
"This fascinating book presents an integrative 'big picture' of personality development from the earliest days of life through old age. McAdams strikes a great balance between theory and empiricism; he articulates a broad theoretical model of personality development that is informed at every point by contemporary research. The book is beautifully written, remarkably clear, and thoroughly engaging. The case studies, tables, and figures draw the reader in and illustrate how complex and interesting the emergence of personality is. The book will be of great use to researchers from a variety of fields, as well as undergraduates and graduate students."

—Rebecca L. Shiner, PhD, Department of Psychology, Colgate University
"This is a powerful book that succeeds on two levels. First, it communicates how personality research is done and how researchers arrive at scientifically defensible answers to questions about human nature. Second, it invites readers to introspect—to ask themselves how they came to be who they are. The book is broad and deep. Like the best of teachers, it is intellectually satisfying and great fun!"

—Avshalom Caspi, PhD, Edward M. Arnett Professor of Psychology and Neuroscience, Duke University
"
The Art and Science of Personality Development
is a landmark achievement in an already illustrious career. This volume heralds the first comprehensive theory of personality development to emerge in the 21st century. While demonstrating a breathtaking grasp of research in neuroscience, traits, motives, goals, and narrative identity, McAdams writes in a lucid and accessible manner. This combination makes this book the ideal text for both undergraduates and more advanced students. It should be required reading for any student or scholar interested in how human personality develops and changes over the course of our lives."

—Jefferson A. Singer, PhD, Dean of the College and Faulk Foundation Professor of Psychology, Connecticut College
"The most comprehensive and integrated overview of personality development currently available. I was eager to adopt this text for my graduate Human Development course, and it exceeded expectations. I love this book because of its deft coverage of the most important issues in personality development. My students unanimously praised McAdams's ability to provide a compelling narrative of the current research. If you are looking to illustrate to students why personality development is so important to understanding who we are, this is the text for you."

—Paul W. Griffin, PhD, Department of Psychology, Pace University
---
Table of Contents
Prologue
I. Becoming an Actor
1. In the Beginning
2. The Actor Takes the Stage: How We Perform Emotion
3. The Problem of Self-Regulation
4. The Actor Grows Up: How Traits Develop into Adulthood
II. Becoming an Agent
5. The Age 5–7 Shift
6. The Motivational Agenda: What Agents Want
7. How Values Shape Agency: Morality, Religion, and Politics
III. Becoming an Author
8. The Stories We Live By
9. Generative Lives, Redemptive Life Stories
10. The Sense of an Ending
---
About the Author
Dan P. McAdams
, PhD, is the Henry Wade Rogers Professor of Psychology and Human Development at Northwestern University. He is President and a founding member of the Association for Research in Personality;a Fellow of the Society for Personality and Social Psychology (SPSP, Division 8 of the American Psychological Association) and the American Psychological Society; and a former member ofthe Executive Committee of SPSP. Dr. McAdams works in the areas of personality and lifespan developmental psychology. His research focuses on concepts of self and identity in contemporary American society and on themes of power, intimacy, redemption, and generativity across the adult life course. He has published over 200 scientific articles and chapters and numerous books.
---
Audience
Personality/social psychologists; developmental psychologists; also of interest to clinical psychologists, other helping professionals, students, and general readers.
---
Course Use
May serve as a text in undergraduate- and graduate-level courses such as Personality Development, Adult Development and Aging, and Human Development.
---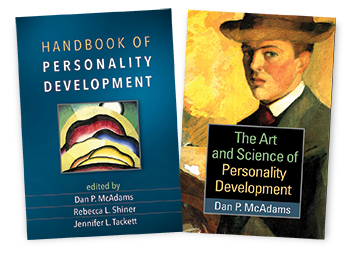 Special package offer: Handbook of Personality Development, edited by Dan P. McAdams, Rebecca L. Shiner, and Jennifer L. Tackett, brings together leading scholars to review cutting-edge theories and empirical findings. The Art and Science of Personality Development, by Dan P. McAdams, accessibly presents the author's model and is illustrated with case studies of political leaders, celebrities, and others.
Order both items for $62.95, instead of $87 if bought separately!

order package