Developing Strategic Young Writers through Genre Instruction
Resources for Grades K-2
Hardcover
Paperback
e-book
print + e-book
Hardcover
February 19, 2020
ISBN 9781462540594
Price: $80.00 $60.00
284 Pages
Size: 8" x 10½"
order
Paperback
December 19, 2019
ISBN 9781462540556
Price: $35.00 $26.25
284 Pages
Size: 8" x 10½"
order
Check out a special package offer including this title!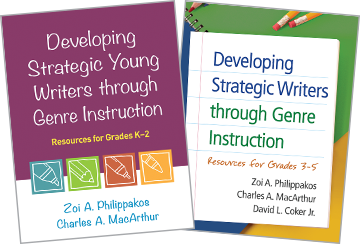 ---
T

ested and fine-tuned in K–2 classrooms, this book provides engaging lessons and materials for teaching the three genres of writing—opinion, procedural, and story—that provide a foundation for beginning writers' persuasive, informative, and narrative writing skills.

The authors' approach integrates strategy instruction, self-regulated learning, and dialogic interactions such as role play. Packed with 55

reproducible

planning forms and student handouts, the book makes connections between writing and reading in ways that support growth in both areas, address learning standards, and promote writing across the instructional day. Appendices contain numerous resources to support teachers' and administrators' professional learning. The large-size format facilitates photocopying; purchasers also get access to a Web page where they can download and print the reproducible materials.

See also the authors'

Developing Strategic Writers through Genre Instruction: Resources for Grades 3–5

.
---
"A 'must have' and 'must read' for K–2 teachers looking to understand how writing and reading work together to improve thinking and understanding across the curriculum. Philippakos and MacArthur provide clear lessons, examples, and explanations that connect the strategies and content between K–2 and later grades. The attention to language and dialogue is wonderful. This book will help you fill your classroom with talk and authentic conversations that strengthen students' understanding of genres."

—Amanda Lankford, EdS, Assistant Principal, Patterson Elementary School, Pierce County, Georgia
"This spectacular resource presents a comprehensive approach to teaching writing that skillfully fuses cognitive strategy instruction with dialogic interactions. The lessons and materials—such as sentence frames, evaluation rubrics, graphic organizers, and explicit explanations—provide teachers with the necessary tools to meet the writing needs of all K–2 students. This book will be beneficial for beginning as well as established teachers, enabling them to teach strong writing skills and develop dynamic writers."

—Karen M. Picerno, MEd, second-grade teacher, Socrates Academy, Charlotte, North Carolina
"Getting off to a good start in learning to write is critical for school success. Philippakos and MacArthur provide primary-grade teachers with the tools to make this happen. Teachers will love this book!"

—Steve Graham, EdD, Warner Professor, Mary Lou Fulton Teachers College, Arizona State University
"Philippakos and MacArthur understand writing research, and they have a track record in working collaboratively with teachers. This book provides practical information in an accessible format for easy application to real classrooms. The 'strategy for teaching strategies' is a supportive framework that guides teachers through a teaching process leading to student growth. Most of all, teachers will treasure the lesson plans, which model how to offer genre-based strategy instruction with a self-regulation focus to support all writers in the primary-grade classroom. This book is a winner!"

—Carol Sue Englert, PhD, Department of Counseling, Educational Psychology and Special Education, College of Education, Michigan State University
---
Table of Contents
1. Writing Strategically: An Introduction to Genre-Based Strategy Instruction

2. Strategies within Genre-Based Strategy Instruction
3. Sequence of Instruction: A Strategy for Teaching Strategies
4. Responses to Reading and Opinion Writing
5. Procedural (How-to) Writing
6. Story Writing
7. Language and Grammatical Correctness for Meaning Making
Appendices
1. Reading Guides for Professional Learning Community (PLC) Discussions
2. Assessment-Grouping Guidelines
3. Questions for Journal Entries
4. Questions for PLC Meetings
5. Pacing Guide
6. Report-Writing Resources
7. A Guiding Checklist for Principals and Literacy Leaders
---
About the Authors
Zoi A. Philippakos
, PhD, is Assistant Professor in the College of Education at The University of Tennessee, Knoxville. Her research interests include reading and writing instruction for students in the elementary grades, strategy instruction and self-regulation, and professional development for classroom teachers. She has worked as an elementary school teacher and literacy coach, and she provides professional development to teachers on effective reading and writing strategies. Dr. Philippakos is coauthor of
Developing Strategic Young Writers through Genre Instruction: Resources for Grades K–2
,
Developing Strategic Writers through Genre Instruction: Resources for Grades 3–5
,
Effective Read-Alouds for Early Literacy: A Teacher's Guide for PreK–1
, and
Differentiated Literacy Instruction in Grades 4 and 5: Strategies and Resources
. Since 2010 she has codeveloped and organized the Writing Research Study Group at the Literacy Research Association, and she is Chair of the Writing Task Force at the International Literacy Association. Dr. Philippakos has published several articles and chapters and has presented her research at national and international conferences.
Charles A. MacArthur
, PhD, is Professor of Special Education and Literacy in the School of Education at the University of Delaware. A former special education teacher, Dr. MacArthur has been conducting research on writing development and instruction for struggling writers since the 1980s. He is currently principal investigator of a study that examines the efficacy of a writing curriculum for college basic writing courses. Other research projects have focused on the development of a writing curriculum for students with learning disabilities, writing strategy instruction, decoding instruction in adult education, speech recognition as a writing accommodation, project-based learning in social studies in inclusive classrooms, and first-grade writing instruction. Dr. MacArthur is coeditor of the
Journal of Writing Research
and serves on the editorial boards of several other journals. He has published over 100 articles and book chapters and is coeditor or coauthor of several books, including the
Handbook of Writing Research, Second Edition
;
Best Practices in Writing Instruction, Third Edition
;
Developing Strategic Young Writers through Genre Instruction: Resources for Grades K–2
; and
Developing Strategic Writers through Genre Instruction: Resources for Grades 3–5
.
---
Audience
Classroom teachers in grades K–2; literacy coaches; teacher educators and graduate students.
---
Course Use
May serve as a supplemental text in such courses as Writing Instruction and Early Literacy.
---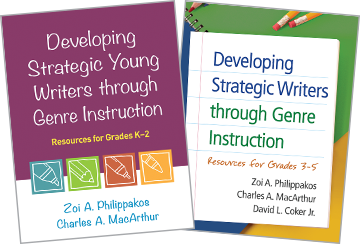 Special package offer: Together, Developing Strategic Young Writers through Genre Instruction: Resources for Grades K-2 and Developing Strategic Writers through Genre Instruction: Resources for Grades 3-5 provide a complete toolkit for standards-based writing instruction across the elementary grades.
Order both items — a $71.00 value for $49.95!

order package