Zoi A. Philippakos

Zoi A. Philippakos, PhD, is Assistant Professor in the College of Education at The University of Tennessee, Knoxville. Her research interests include reading and writing instruction for students in the elementary grades, strategy instruction and self-regulation, and professional development for classroom teachers. She has worked as an elementary school teacher and literacy coach, and she provides professional development to teachers on effective reading and writing strategies. Dr. Philippakos is coauthor of Developing Strategic Young Writers through Genre Instruction: Resources for Grades K–2, Developing Strategic Writers through Genre Instruction: Resources for Grades 3–5, Effective Read-Alouds for Early Literacy: A Teacher's Guide for PreK–1, and Differentiated Literacy Instruction in Grades 4 and 5: Strategies and Resources. Since 2010 she has codeveloped and organized the Writing Research Study Group at the Literacy Research Association, and she is Chair of the Writing Task Force at the International Literacy Association. Dr. Philippakos has published several articles and chapters and has presented her research at national and international conferences.

---
All titles by Zoi A. Philippakos: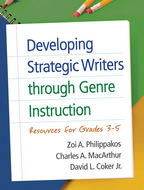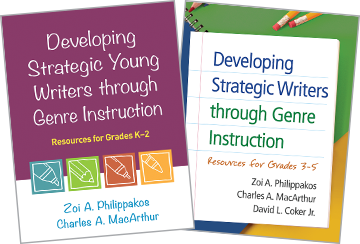 Order both items — a $71.00 value for $49.95!