Dialectical Behavior Therapy with Suicidal Adolescents
Hardcover
Paperback
e-book
print + e-book
Hardcover
November 16, 2006
ISBN 9781593853839
Price: $117.00
346 Pages
Size: 7" x 10"
order
Paperback
May 19, 2017
ISBN 9781462532056
Price: $42.00
346 Pages
Size: 7" x 10"
order
Check out a special package offer including this title!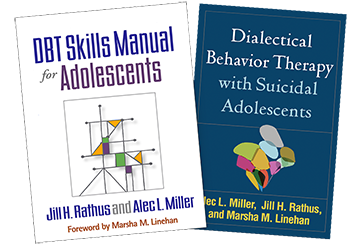 ---
F
illing a tremendous need, this highly practical book adapts the proven techniques of dialectical behavior therapy (DBT) to treatment of multiproblem adolescents at highest risk for suicidal behavior and self-injury. The authors are master clinicians who take the reader step by step through understanding and assessing severe emotional dysregulation in teens and implementing individual, family, and group-based interventions. Insightful guidance on everything from orientation to termination is enlivened by case illustrations and sample dialogues. Appendices feature 30 mindfulness exercises as well as lecture notes and 12
reproducible
handouts for "Walking the Middle Path," a DBT skills training module for adolescents and their families. Purchasers get access to a Web page where they can download and print these handouts and several other tools from the book in a convenient 8½" x 11" size.
See also Rathus and Miller's
DBT Skills Manual for Adolescents
, packed with tools for implementing DBT skills training with adolescents with a wide range of problems.
---
"I was struck by the discussion of how to conduct therapy with teens on an interpersonal level. I've never read a better, concise description of what it takes to work with adolescents....The treatment described is likely to be useful for a broad range of persistently and emotionally dysregulated adolescents, not just those who are suicidal....An important contribution to the literature on the treatment of self-destructive adolescents and their families."

—Psychiatric Services
"Clinicians with and without expertise in dialectical behavior therapy (DBT) will find this book useful because it covers topics ranging from basic principles to details of session content, to treatment protocol modifications for this specialized population....The attention given to the role of families in this book is a feature that is not available in general DBT books....This book's greatest strength is the practical format in which information is presented. The chapters that outline treatment protocols provide detailed information about session process and content. Many practical figures, tables, and checklists are included. The addition of reproducible handouts and checklists that can actually be used in therapy is an added bonus. There is also an appendix of mindfulness exercises that most clinicians will find helpful....A comprehensive and practical book....This book will certainly help to facilitate future research because it provides the comprehensive structure necessary for those who will go on to conduct clinical trials."

—Journal of the American Academy of Child and Adolescent Psychiatry
"This is an excellent manual covering how to apply DBT to multiproblem suicidal adolescents."

—Bulletin of the Menninger Clinic
"This is an exciting and very important book that fills a need in the behavioral literature....The book is clearly written, full of examples and may represent the most comprehensive explanation of dialectical behavior therapy yet written. This book would be a valued addition to any advanced graduate level psychology or social work course in behavior therapy targeting adolescence or where suicidality is part of the curriculum. This book will also be a valued addition to any psychiatry residency or fellowship aligned with an adolescent treatment program. Given the importance of this book, its potential contribution and the high level of need of this targeted population, the price is a bargain!"

—Child & Family Behavior Therapy
"A remarkably well-written, comprehensive, theoretically-grounded, integrated treatment manual. It is excellent for researchers and clinicians alike—as the most comprehensive and empirically-informed approach to treating suicidal adolescents developed by experts with this population....Notable throughout this manual is the compassionate stance taken by the authors in describing the symptoms and behaviors of the multiproblem adolescents and families served by dialectical behavior therapy (DBT) treatment....I highly recommend this treatment manual for all those working with adolescents."

—Cognitive Behavioral Therapy Book Reviews
"This book is a creative synthesis of the new and old that offers a useful treatment manual to be applied and further tested with the taxing population of suicidal adolescents....An excellent work....The ideas and tools are well explained, inviting application, skill building, and ultimately analysis of the effectiveness of this approach. This work goes a long way toward moving us forward in treating this most taxing dilemma of treating suicidal adolescents. This is a nice synthesis. Well done."

—PsycCRITIQUES
"An excellent, practical book on a very difficult-to-treat and neglected population: teens with multiple and severe psychiatric disorders, mood dysregulation, and recurrent suicidal and/or self-harming behaviors. This book is recommended for students, psychologists, social workers, psychiatric residents, psychiatrists, and other professionals dealing with mental health issues in teenagers. Also, this book is an outstanding resource for researchers evaluating the efficacy of Dialectical Behavior Therapy for teenagers."

—Boris Birmaher MD, University of Pittsburgh Medical Center
"This book offers the latest thinking on core elements of DBT while illustrating important strategies specific to treating adolescents. The authors' skill and expertise with this population shine, making this an essential manual for DBT practitioners and administrators working with adolescents."

—André Ivanoff, PhD, Columbia University School of Social Work
"An outstanding text for graduate courses focused on cognitive-behavioral therapy and evidence-based approaches for youth. I have utilized this book in my graduate course on Adolescent Clinical Psychology and with advanced practicum students providing therapy services to youth at risk for self-harm behaviors. The book is well organized and provides a thorough review of the theoretical foundations of DBT. The chapters on skills training and the pragmatics of running groups are helpful resources for all practitioners, especially in combination with the appendices that provide detailed descriptions of the group activities, discussion points, and handouts."

—Mary Louise Cashel, PhD, Associate Professor and Director of Clinical Training, Department of Psychology, Southern Illinois University Carbondale
"Outstanding. This book represents a major contribution to the prevention of adolescent suicide. It is extensively detailed to inform clinicians about the applications of this effective psychosocial treatment for adolescents who present with specific risk factors. Written by pioneering developers of DBT, this book is essential reading for mental health professionals at every level of experience and training."

—Cynthia R. Pfeffer, MD, Department of Psychiatry, Weill Medical College of Cornell University
"This book is extremely relevant for therapists working with adolescents who engage in suicidal and other high-risk behaviors. In addition to providing an efficacious and easily understood manualized approach for this population, it offers many valuable tips for building a strong therapeutic alliance with this challenging population."

—Lynn Ponton, MD, University of California, San Francisco
"Humane, practical, and erudite. The authors, through their dialectical approach, provide a theoretical framework that allows for an efficient, realistic, and parsimonious approach to the core difficulties in multiple health-risk behaviors in youth. Most important, they provide clear guidelines as to how therapists should conduct themselves to be maximally effective with these challenging adolescents, and how to cope with the emotional demands of work with this population. What the reader will learn is that DBT is more than a set of skills and techniques—it is a way of understanding and conceptualizing human behavior. This book should be read by every professional who works with multiproblem teens."

—David A. Brent, MD, Division of Child and Adolescent Psychiatry and Services for Teens at Risk, University of Pittsburgh School of Medicine
---
Table of Contents
Foreword,
Charles R. Swenson
Introduction
1. Suicidal Behaviors in Adolescents: Who Is Most at Risk?
2. What Do We Know about Effective Treatments for Suicidal Adolescents?
3. Dialectical Behavior Therapy: Treatment Stages, Primary Targets, and Strategies
4. DBT Program Structure: Functions and Modes
5. Dialectical Dilemmas for Adolescents: Addressing Secondary Targets
6. Assessing Adolescents: Suicide Risk, Diagnosis, and Treatment Feasibility
7. Orienting Adolescents and Families to Treatment and Obtaining Commitment
8. Individual Therapy with Adolescents
9. Including Families in Treatment
10. Skills Training with Adolescents
11. Assessing Progress, Running a Graduate Group, and Terminating Treatment
12. Program Issues
Appendix A. Mindfulness Exercises for Adolescents
Appendix B. Walking the Middle Path Skills: Lecture and Discussion Points
Appendix C. Handouts for Walking the Middle Path Skills
---
About the Authors
Alec L. Miller
, PsyD, is Co-Founder and Clinical Director of Cognitive and Behavioral Consultants, White Plains and New York, New York, and Clinical Professor of Psychiatry and Behavioral Sciences at Montefiore Medical Center/Albert Einstein College of Medicine, Bronx, New York. Dr. Miller served for over 20 years as Professor of Clinical Psychiatry and Behavioral Sciences, Chief of Child and Adolescent Psychology, Director of the Adolescent Depression and Suicide Program, and Associate Director of Psychology Training at Montefiore Medical Center. He is a scientific advisor to the American Foundation of Suicide Prevention and the National Educational Alliance of Borderline Personality Disorder, a Fellow of the American Psychological Association, and past Chair of the International Society for the Improvement and Training of DBT. He has published numerous peer-reviewed journal articles, book chapters, and books on topics including DBT, adolescent suicide, childhood maltreatment, and borderline personality disorder. He is the coauthor of
DBT Skills in Schools
,
DBT Skills Manual for Adolescents
, and
Dialectical Behavior Therapy with Suicidal Adolescents
. He has conducted over 400 lectures and workshops around the world, training thousands of mental health professionals in DBT.
Jill H. Rathus
, PhD, is Professor of Psychology at Long Island University Post, where she directs the DBT scientist-practitioner training program within the clinical psychology doctoral program. She is also Co-Director and Co-Founder of Cognitive Behavioral Associates, a group private practice in Great Neck, New York, specializing in DBT and cognitive-behavioral therapy (CBT). Her clinical and research interests include DBT, CBT, adolescent suicidality, intimate partner violence, anxiety disorders, and assessment. Dr. Rathus has developed and conducted programs in DBT for adolescents and adults as well as males referred for intimate partner violence, and has received foundation and university funding to study, adapt, and develop assessment tools for DBT. She has published numerous peer-reviewed articles and chapters on DBT, adolescent suicide, couple therapy, intimate partner violence, personality disorders, assessment, and anxiety disorders. She is the coauthor of books including
DBT Skills in Schools
,
DBT Skills Manual for Adolescents
, and
Dialectical Behavior Therapy with Suicidal Adolescents
.
Marsha M. Linehan
, PhD, ABPP, the developer of dialectical behavior therapy (DBT), is Professor Emeritus of Psychology and Director Emeritus of the Behavioral Research and Therapy Clinics at the University of Washington. Her primary research interest is in the development and evaluation of evidence-based treatments for populations with high suicide risk and multiple, severe mental disorders. Dr. Linehan's contributions to suicide research and clinical psychology research have been recognized with numerous awards, including the University of Louisville Grawemeyer Award for Psychology and the Career/Lifetime Achievement Award from the Association for Behavioral and Cognitive Therapies. She is also a recipient of the Gold Medal Award for Life Achievement in the Application of Psychology from the American Psychological Foundation and the James McKeen Cattell Award from the Association for Psychological Science. In her honor, the American Association of Suicidology created the Marsha Linehan Award for Outstanding Research in the Treatment of Suicidal Behavior. She is a Zen master.
---
Audience
Mental health practitioners who treat multiproblem adolescents and their families, including clinical psychologists, psychiatrists, and clinical social workers.
---
Course Use
May serve as a text in graduate-level courses and clinical practica.
---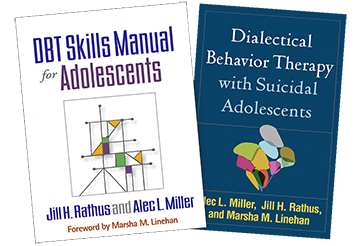 Special package offer: DBT Skills Manual for Adolescents is packed with tools for implementing DBT skills training with adolescents with a wide range of problems. Dialectical Behavior Therapy with Suicidal Adolescents delves into skills training and other DBT components for those at highest risk.
Order both items for $67.95, instead of $94.00 if bought separately!

order package