Jill H. Rathus

Jill H. Rathus, PhD, is Professor of Psychology at Long Island University Post, where she directs the DBT scientist-practitioner training program within the clinical psychology doctoral program. She is also Co-Director and Co-Founder of Cognitive Behavioral Associates, a group private practice in Great Neck, New York, specializing in DBT and cognitive-behavioral therapy (CBT). Her clinical and research interests include DBT, CBT, adolescent suicidality, intimate partner violence, anxiety disorders, and assessment. Dr. Rathus has developed and conducted programs in DBT for adolescents and adults as well as males referred for intimate partner violence, and has received foundation and university funding to study, adapt, and develop assessment tools for DBT. She has published numerous peer-reviewed articles and chapters on DBT, adolescent suicide, couple therapy, intimate partner violence, personality disorders, assessment, and anxiety disorders. She is the coauthor of books including DBT Skills in Schools, DBT Skills Manual for Adolescents, and Dialectical Behavior Therapy with Suicidal Adolescents.

---
All titles by Jill H. Rathus: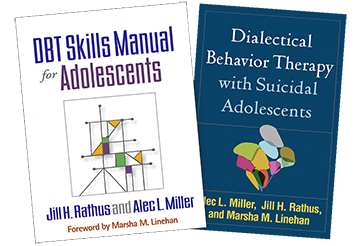 Order both items for $74.95, instead of $100.00 if bought separately!