Social and Emotional Skills Training for Children
The Fast Track Friendship Group Manual
A Paperback Original
e-book
print + e-book
A Paperback Original
July 24, 2017
ISBN 9781462531721
Price: $36.00
444 Pages
Size: 8" x 10½"
order
Check out a special package offer including this title!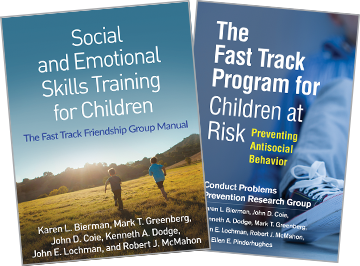 ---
F
rom leading authorities, this volume presents a unique evidence-based group intervention for the 10–15% of children who are challenged by peer difficulties in elementary school. The book features 145 engaging full-color
reproducible
handouts, posters, and other tools. In addition to teaching core social skills (participation, communication, cooperation, good sportsmanship, conflict resolution), Friendship Group promotes emotional understanding and empathy, self-control, and effective coping with social stressors. Two complete sets of sessions are provided (grades K–2 and 3–5), including step-by-step implementation guidelines. The large-size format facilitates photocopying; purchasers also get access to a Web page where they can download and print the reproducible materials.
See also the authors'
Fast Track Program for Children at Risk: Preventing Antisocial Behavior
, which describes the landmark study that used Friendship Group in tandem with other school- and family-based interventions.
---
"Based on what works, this is a well-designed, high-quality program for systematically promoting social and emotional competence in children and improving their behavior. Over my 40 years as an educator, I have seen how difficult it is to provide the support that peer-rejected children need to succeed in relationships and at school. Friendship Group is a great example of translational research that results in effective, user-friendly school-level strategies. Having witnessed the program in action while it was being developed and tested, I am so pleased that these tools and guidance are now available to a wider audience of professionals. I have observed the positive changes in children who needed our help and who had the opportunity to participate in Friendship Group."

—Judith Nuss, MA, independent consultant and former Director of Social and Emotional Learning, Harrisburg School District, Pennsylvania
"A clear, concise manual for a well-tested group program for children with behavior and social relationship problems. Schools, after-school programs, and child-serving agencies will find a sound rationale along with specific activities and valuable guidance on how to ensure the best group processes and outcomes. The book accessibly describes each session, with attention to how sessions build on prior ones. The tools provided are attractive to children. Friendship Group should become a standard service in schools across the country; it could help to greatly reduce the number of children who are failing as a result of struggling with these issues."

—Patrick H. Tolan, PhD, Director, Youth-Nex, UVA's Center to Promote Effective Youth Development, Curry School of Education, University of Virginia
"This book builds on decades of cutting-edge research that bridges developmental, educational, and prevention sciences to promote the social adaptation of all youth. It directly addresses the need for evidence-based, manualized programs that focus on the child 'in context.' The book provides a complete guide to the Friendship Group program, including developmental foundations, program administration, therapeutic processes, behavior management strategies, synchronized home–school interventions, and instructions for conducting each session. The reproducible materials are of high practical value."

—Thomas W. Farmer, PhD, Professor and Associate Dean for Research, School of Education, College of William and Mary
"Barnardos, which works with children and families in community-based centers across Ireland, has delivered the Friendship Group program for more than 10 years. This manual will serve as an informative, accessible, and useful tool for practitioners delivering the program. It is also an excellent resource for managers overseeing implementation and supporting fidelity; it clearly outlines the program's theoretical framework and gives comprehensive guidelines for implementation."

—Suzanne Connolly, MSc, MA, Director of Children's Services, Barnardos Ireland
---
Table of Contents
Introduction to the Friendship Group Manual
1. Overview
2. Program Administration
3. Therapeutic Processes
4. Behavior Management
5. Home–School Intervention: The Fast Track Model
Commonly Used Materials in Friendship Group
Session Posters
Agenda Pictures
Award Pages
Friendship Group Manual: Early Elementary Sessions
Unit I. Establishing Common Ground
Unit II. Caring and Controlled Behavior
Unit III. Negotiating with Friends
Unit IV. Handling Competitive Play
Unit V. Communicating Effectively
Unit VI. Coping with Tough Stuff
Friendship Group Manual: Advanced Elementary Sessions
Unit I. Cooperation and Conversation Skills
Unit II. Understanding and Respecting Others
Unit III. Coping with Social Stress
Unit IV. Responsible Decision Making
---
About the Authors
Karen L. Bierman
, PhD, is Evan Pugh University Professor, Professor of Psychology and Human Development and Family Studies, and Director of the Child Study Center at Pennsylvania State University. Since the 1980s, her research has focused on social-emotional development and children at risk, with an emphasis on the design and evaluation of school-based programs that promote social competence, school readiness, and positive peer relations, and that reduce aggression and related behavior problems. Currently, she directs the Research-based Developmentally Informed (REDI) classroom and home visiting programs, developed in partnership with Head Start programs in Pennsylvania. A clinical psychologist, Dr. Bierman also directs a predoctoral training program in the interdisciplinary educational sciences. Dr. Bierman has served as an educational advisor to organizations including Head Start and Sesame Workshop.
Mark T. Greenberg
, PhD, is Emeritus Professor in the College of Health and Human Development at The Pennsylvania State University, where he is also Founding Director of the Edna Bennett Pierce Prevention Research Center. A developmental psychologist, Dr. Greenberg is the author of over 350 journal articles and book chapters on the development of well-being; learning; and the effects of prevention efforts on children and families. He is a Founding Board Member of the Collaborative for Academic, Social, and Emotional Learning (CASEL). Dr. Greenberg is the recipient of numerous awards, including the Urie Bronfenbrenner Award for Lifetime Contribution to Developmental Psychology in the Service of Science and Society from the American Psychological Association. One of his current interests is how to help nurture awareness and compassion in our society. He is Chairperson of the Board of CREATE, a nonprofit devoted to improving the quality of schooling and the lives of teachers and students.
John D. Coie
, PhD, is Professor Emeritus of Psychology: Social and Health Sciences at Duke University. He is a past Chair of the National Institute of Mental Health grant review panel on prevention research. A developmental and clinical psychologist, Dr. Coie has primarily focused his research on the development and prevention of serious antisocial behavior. He retired from Duke in 2000 but continues to be involved with the Fast Track project and has developed and comanaged a program in Santa Barbara, California, for providing non-English-speaking Hispanic children with computer-based English language and reading training. He continues to be active in programs designed to reduce violence and recidivism in the community.
Kenneth A. Dodge
, PhD, is the Pritzker Professor of Public Policy and Psychology and Neuroscience at Duke University. He is Founding and Emeritus Director of the Duke Center for Child and Family Policy. A clinical and developmental psychologist, Dr. Dodge studies early childhood development, prevention of violent behavior in the family, and public policy to improve population outcomes for communities. He is the developer of Family Connects, a population approach to improve children's outcomes in the first year of life. The author of more than 500 highly cited scientific articles, which have been cited more than 100,000 times, Dr. Dodge has been elected into the National Academy of Medicine and is the 2019–2021 President of the Society for Research in Child Development.
John E. Lochman
, PhD, ABPP, is Saxon Professor Emeritus in Psychology, Interim Director of the Alabama Life Research Institute, and Director Emeritus of the Center for Prevention of Youth Behavior Problems at the University of Alabama. He is also Adjunct Professor of Psychiatry and Behavioral Sciences at the Duke University Medical Center. A clinical psychologist, Dr. Lochman has authored more than 400 scientific articles, chapters, and books on the causes and consequences of highly aggressive behavior in childhood, and on the effects of intervention for this behavior. His current focus is research on dissemination, implementation, and adaptation of interventions. Dr. Lochman has served as Editor-in-Chief of the
Journal of Abnormal Child Psychology
and is a former President of the Society for Child and Family Policy and Practice (Division 37 of the American Psychological Association) and the American Board of Clinical Child and Adolescent Psychology. He is a recipient of the Distinguished Career Award from the Society of Clinical Child and Adolescent Psychology (Division 53 of the American Psychological Association).
Robert J. McMahon
, PhD, is Professor of Psychology at Simon Fraser University in Burnaby, British Columbia, Canada, where he is also B.C. Leading Edge Endowment Fund Leadership Chair in Proactive Approaches to Reducing Risk for Violence among Children and Youth. To carry out the work of the Chair, he directs the Institute for the Reduction of Youth Violence. He is also a senior scientist at the B.C. Children's Hospital Research Institute in Vancouver. A clinical psychologist, Dr. McMahon studies the assessment, treatment, and prevention of conduct problems and other problem behavior in children and youth, especially in the context of the family. He is author or editor of more than 250 books, scientific articles, chapters, and reviews; a past Editor-in-Chief of
Prevention Science;
and a recipient of the Service to SPR Award from the Society for Prevention Research and the Trailblazer Award from the Parenting and Families Special Interest Group, Association for Behavioral and Cognitive Therapies.
---
Audience
School and child clinical psychologists, counselors, social workers, and other mental health professionals working with 5- to 11-year-olds (grades K–5). Also of interest to developmental psychologists.
---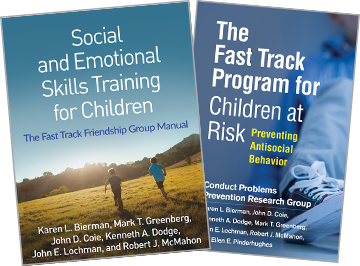 Special package offer: The Fast Track Program for Children at Risk: Preventing Antisocial Behavior describes the landmark study that integrated multiple school- and family-based interventions. Social and Emotional Skills Training for Children: The Fast Track Friendship Group Manual is a step-by-step guide to implementing a core Fast Track component.
Order both items for $49.95, instead of $71 if bought separately!

order package