Karen L. Bierman

Karen L. Bierman, PhD, is Evan Pugh University Professor, Professor of Psychology and Human Development and Family Studies, and Director of the Child Study Center at The Pennsylvania State University. Since the 1980s, her research has focused on social-emotional development and children at risk, with an emphasis on the design and evaluation of school-based programs that promote social competence, school readiness, and positive peer relations, and that reduce aggression and related behavior problems. Currently, she directs the Research-based Developmentally Informed (REDI) classroom and home visiting programs, developed in partnership with Head Start programs in Pennsylvania. A clinical psychologist, Dr. Bierman also directs a predoctoral training program in the interdisciplinary educational sciences. Dr. Bierman has served as an educational advisor to organizations including Head Start and Sesame Workshop.

---
All titles by Karen L. Bierman: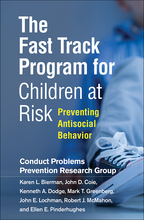 The Fast Track Program for Children at Risk: Preventing Antisocial Behavior
Conduct Problems Prevention Research Group, Karen L. Bierman, John D. Coie, Kenneth A. Dodge, Mark T. Greenberg, John E. Lochman, Robert J. McMahon, and Ellen E. Pinderhughes
Foreword by Patrick H. Tolan
Hardcover
October 30, 2019
$35.00
e-Book
September 11, 2019
$35.00
Print +

e-Book


Save 45%!
$70.00
$38.50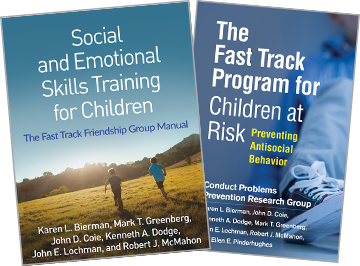 Order both items for $49.95, instead of $71.00 if bought separately!