Home
»
About Guilford Press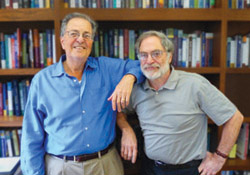 Seymour Weingarten and Bob Matloff
Founded in 1973, Guilford Publications, Inc., has built an international reputation as a publisher of books, periodicals, software, and DVDs in mental health, education, geography, and the social and behavioral sciences.
We pride ourselves on teaming up with authors who are recognized experts, and who translate their knowledge into vital, needed resources for practitioners, academics, and general readers. Our dedicated editorial professionals work closely on each title to produce high-quality content that readers can rely on. The firm is owned by its founding partners, President Bob Matloff and Editor-in-Chief Seymour Weingarten, and many staff members have been at Guilford for more than 20 years.
With more than 1,350 titles in print, we typically publish 90+ new books each year. The company also publishes 12 journals and 2 newsletters, as well as video productions and software programs.
Most new and recent Guilford titles are available as e-books. Readers can now download e-books directly from Guilford or purchase them through Amazon (for the Kindle), Barnes & Noble (for the Nook), Kobo, Google Play, Apple's iBookstore, and eBooks.com, as well as other e-book vendors. Many public and university libraries also have access to Guilford e-books. Please visit our e-books page regularly to browse available subject areas and new titles.
This website has been designed to make it simple to find exactly what you're looking for. You can view complete information on all in-print titles (and share it with your social networking contacts), including tables of contents, reviews, full-chapter excerpts for selected titles, and samples of reproducible handouts and forms. The site also includes electronic mailing lists for early notice on releases in specific fields, desk and exam copy information for instructors, information on publishing with Guilford, and job listings.
Google book search on the Guilford website makes searching our titles easier than ever. This function allows you to view entire pages that contain your keyword or phrase. You can search a wide array of Guilford books or search an individual book (from the book's product page). Of course, you can also still search for Guilford products by title, author, or keywords to find the resources that meet your needs.
We value your interest in Guilford. Welcome!