An Ideal Book for Teachers of Any Grade
"How teachers can take care of themselves and thrive." —Randy Sprick, PhD
Read a free sample chapter!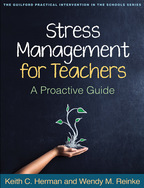 Special 25% Discount for PreK–12 Teachers
In order to help you build up your professional library and enhance your learning, Guilford is pleased to offer PreK–12 teachers a special 25% discount off the list price of Guilford's education books.
To qualify for this special 25% offer, your order can either be placed online or by phone (800-365-7006) using the promotional code TCHF16, or with our mail/fax order form. Please note that you will be required to indicate at what school you teach and what grade.
PreK–12 Classroom Teacher Discount Policy & Restrictions:
Only available in the U.S. and Canada.
Applies only to single-copy (per title) orders for education books.
Prepayment required.
Does not apply to orders previously placed with Guilford.
May not be combined with other Guilford discounts, including special package offers, or sale books.
Not valid at conferences Guilford attends.
Catalogs Featuring Special Offers
You can view or print the latest catalogs listed below online as PDFs or browse our site to find titles of interest.
Staff Developers & Administrators: Free Review Copies Available
For school personnel conducting professional development: Guilford is pleased to make our education titles available to you for free review.
Submit a request for a free review copy to consider use for professional development and schoolwide training initiatives.
Need some help choosing the perfect book to meet your staff's needs? Visit our Professional Development page for title recommendations.
Note: There is a limit of two titles per training program. Guilford reserves the right to limit the number of review copies sent to educators per academic year.
Resources for Education Professionals
Professors teaching a course at a university or college should visit our professor page. Educators can browse recommended titles on the Common Core State Standards.