Home
»
Self-Help & General Interest
»
Psychology
Bestseller
More than 75,000 in print!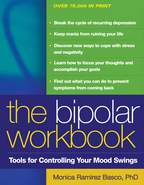 View larger

The Bipolar Workbook
Tools for Controlling Your Mood Swings

Test Your Knowledge of Bipolar Disorder
1. Taking Control of Your Illness
See It Coming
2. Facts about Bipolar Disorder
3. Charting Your Personal History
4. Developing an Early Warning System
Take Precautions
5. Making Yourself Less Vulnerable
6. Getting the Most out of Medication
7. Overcoming the Big "D"
Reduce Your Symptoms
8. Recognizing and Catching Your Thinking Errors
9. Controlling Emotional Thoughts
10. Reversing Mental Meltdown
Check Your Progress
11. Working the Program
Resources