Home
»
Psychology, Psychiatry, & Social Work
»
ADHD Resources
More than 100,000 in print!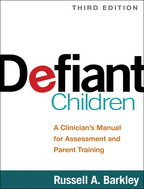 View larger

Defiant Children
Third Edition
A Clinician's Manual for Assessment and Parent Training
See related items for this product

Online-only
Spanish-language parent forms

Sign up to receive
e-alerts
on upcoming titles by Russell A. Barkley (with special discounts)!

New to this edition:
Reflects 15 years of research advances and the author's ongoing clinical experience.
Fully updated model of the nature and causes of oppositional defiant disorder (ODD).
Revised assessment tools and recommendations.
The latest data on the program's effectiveness.
Spanish-language versions of the parent forms are available online for downloading and printing (www.guilford.com/p/barkley4).