Bestseller
More than 200,000 in print!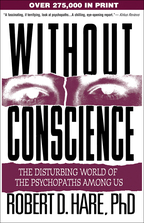 Without Conscience
The Disturbing World of the Psychopaths Among Us
A Paperback Original
e-book
print + e-book
A Paperback Original
January 8, 1999
ISBN 9781572304512
Price: $17.95 $15.26
236 Pages
Size: 5" 5/16" x 8" 3/16"
order

Professors: free copies available for adoption consideration
Download an e-book copy now or order a print copy
---
Robert D. Hare
, PhD, has conducted influential research on psychopathy for over 25 years. Professor Emeritus of Psychology at the University of British Columbia, Canada, and the developer of one of the world's most widely used tools for assessing psychopathy, Dr. Hare is the author of over 100 professional articles and several books. In recognition of the enormous impact that his work on psychopathy has had worldwide, the Society for the Scientific Study of Psychopathy named their lifetime achievement award after him. In 2005, he was the first recipient of the R.D. Hare Lifetime Achievement Award.