About Us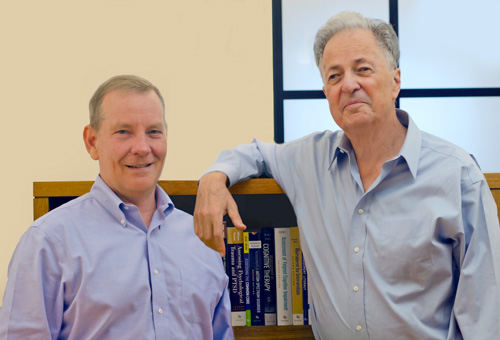 Tim Stookesberry and Seymour Weingarten
Founded in 1973, Guilford is a proudly independent company committed to high-quality books and journals, an inclusive culture where staff thrive, and lasting relationships with authors. Guilford is full of people passionate about the titles we publish—many of whom have been working at the company for decades. The firm is run by co-founder Seymour Weingarten and CEO Tim Stookesberry. Co-founder Bob Matloff retired in 2022.
Since Guilford's first book, Aaron T. Beck's Cognitive Therapy of Depression, our publications have made a difference in the lives of clinicians, researchers, students, educators, and general readers around the world. We pride ourselves on science-based works by respected experts who aim to advance knowledge and support individual and societal well-being.
Guilford applauds the movement toward greater diversity, equity, and inclusion across the fields in which we publish. We believe that amplifying underrepresented voices in our publishing program can only improve the breadth and quality of the scholarship we bring to the market. We are also committed to increasing access for readers of all abilities. Guilford's workflow for accessible ePub e-books has been accredited as Global Certified Accessible by Benetech, and we currently offer numerous certified accessible ePubs meeting WCAG 2.0 AA standards.
Let's Work Together
We've told you about us; now what can we do for you?
To get the latest Guilford news as well as exclusive offers, downloadable sample chapters, and more, sign up for emails in the interest areas of your choice. We'd be happy to add you to our print catalog mailing list. We also invite you to follow us on Facebook, Twitter, Instagram, YouTube, and LinkedIn.