Amy Bradfield Douglass

Amy Bradfield Douglass, PhD, is Professor of Psychology at Bates College. She teaches statistics and upper-level courses on psychology and law and psychology of religion. Her research focuses on how eyewitnesses make decisions, how eyewitness errors can be prevented, how social interactions with lineup administrators affect retrospective witness judgments, and how people perceive and evaluate eyewitnesses. Dr. Douglass is an editorial board member and former associate editor of Law and Human Behavior.


---
All titles by Amy Bradfield Douglass: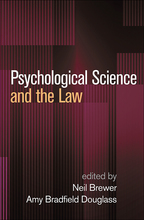 Psychological Science and the Law
Edited by Neil Brewer and Amy Bradfield Douglass
Hardcover
April 4, 2019
$47.00
e-Book
March 5, 2019
$47.00
Print +

e-Book


Save 45%!
$94.00
$51.70