Barbara A. Gueldner
Barbara A. Gueldner, PhD, NCSP, is a psychologist in private practice in Steamboat Springs, Colorado. She works with children and families; collaborates with educators, medical professionals, and community agencies; and develops programming and educational materials for professionals and parents. She has worked in schools, a university-based child and family clinic, pediatric primary care clinics, and inpatient medical and psychiatric clinics, and served as Visiting Assistant Professor at the University of Oregon. Dr. Gueldner's research, publications, and community education endeavors focus on social and emotional learning, childhood mental health and prevention, internalizing problems and solutions, and working with adults to facilitate children's social and emotional development. She is a coauthor of Kenneth W. Merrell's Strong Kids and Strong Teens social and emotional learning programs.

---
All titles by Barbara A. Gueldner: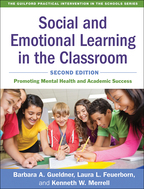 Social and Emotional Learning in the Classroom: Second Edition: Promoting Mental Health and Academic Success

Barbara A. Gueldner, Laura L. Feuerborn, and Kenneth W. Merrell
Foreword by Roger P. Weissberg
Paperback
September 1, 2020
$35.00
$26.25
e-Book
August 21, 2020
$35.00
$26.25
Print + e-Book
Save 45%!
$70.00
$38.50