Barry L. Stern

Barry L. Stern, PhD, is Clinical Associate Professor of Psychology in Psychiatry at the Columbia University Vagelos College of Physicians and Surgeons and a faculty member at the Columbia University Center for Psychoanalytic Training and Research. Dr. Stern's work centers on the study of personality and mental health and the application of transference-focused psychotherapy with patients across the spectrum of personality functioning, and with couples. Dr. Stern has been a lead investigator in the validation studies of the Structured Interview of Personality Organization (STIPO) and its revision (STIPO-R). His published empirical work focuses on the STIPO and the structural assessment of personality. He has a private practice in New York City.


---
All titles by Barry L. Stern: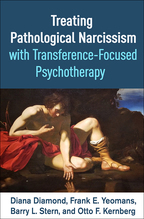 Treating Pathological Narcissism with Transference-Focused Psychotherapy

Diana Diamond, Frank E. Yeomans, Barry L. Stern, and Otto F. Kernberg
Hardcover
November 11, 2021
$55.00
e-Book
September 8, 2021
$55.00
Print + e-Book
Save 45%!
$110.00
$60.50