Bret A. Moore

Bret A. Moore, PsyD, ABPP, is a clinical psychologist and prescribing psychologist in San Antonio, Texas, and the Vice Chair of the Boulder Crest Institute for Posttraumatic Growth in Bluemont, Virginia. He is the founder of Military Psychology Consulting and a former active-duty Army psychologist and two-tour veteran of Iraq. Dr. Moore is author or editor of numerous books for mental health professionals and general readers. He is a Fellow of the American Psychological Association (APA) and a recipient of the Arthur W. Melton Award for Early Career Achievement in Military Psychology from APA Division 19 and the Early Career Achievement Award in Public Service Psychology from APA Division 18.


---
All titles by Bret A. Moore: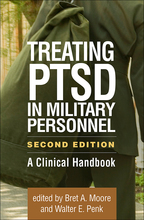 Treating PTSD in Military Personnel: Second Edition: A Clinical Handbook

Edited by Bret A. Moore and Walter E. Penk
Foreword by Matthew J. Friedman
Hardcover
April 5, 2019
$45.00
$38.25
e-Book
February 19, 2019
$45.00
$38.25
Print + e-Book
Save 45%!
$90.00
$49.50