Carrie H. Kennedy

Carrie H. Kennedy, PhD, ABPP, is a Captain in the Medical Service Corps of the U.S. Navy and Assistant Professor of Psychiatry and Neurobehavioral Sciences at the University of Virginia. She is board certified in both clinical and police and public safety psychology and is a Fellow of the National Academy of Neuropsychology and the American Psychological Association (APA). She currently serves as Member-at-Large, American Board of Police and Public Safety Psychology, and as Division 19 (Society for Military Psychology) Representative, APA Council of Representatives. Her awards include the Charles S. Gersoni and Robert S. Nichols Awards from APA Division 19, and she is a two-time Navy Psychologist of the Year winner. Dr. Kennedy has more than 70 publications in the areas of military psychology, aeromedical psychology, and neuropsychology. She is the author or editor of six books, which have been translated into four languages.

---
All titles by Carrie H. Kennedy: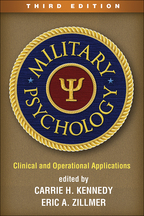 Military Psychology: Third Edition: Clinical and Operational Applications

Edited by Carrie H. Kennedy and Eric A. Zillmer
Hardcover
August 19, 2022
$65.00
e-Book
June 30, 2022
$65.00
Print +

e-Book


Save 45%!
$130.00
$71.50