Carrie Masia Warner

Carrie Masia Warner, PhD, is Professor of Psychology at Montclair State University in New Jersey, Research Scientist at the Nathan Kline Institute for Psychiatric Research, and Adjunct Associate Professor in the Department of Child and Adolescent Psychiatry at New York University Langone Medical Center. Dr. Masia Warner is an expert in pediatric anxiety disorders and school implementation of evidence-based interventions. She has systematically developed and evaluated interventions for children and adolescents in community settings, with a focus on enhancing the identification and treatment of teenagers with social anxiety and training front-line school professionals. She has published over 65 peer-reviewed articles and book chapters.


---
All titles by Carrie Masia Warner: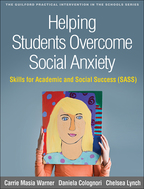 Helping Students Overcome Social Anxiety: Skills for Academic and Social Success (SASS)

Carrie Masia Warner, Daniela Colognori, and Chelsea Lynch
Paperback
March 7, 2018
$35.00
$29.75
e-Book
February 5, 2018
$35.00
$29.75
Print + e-Book
Save 45%!
$70.00
$38.50