Christopher A. Flessner

Christopher A. Flessner, PhD, is Associate Professor in the Department of Psychological Sciences at Kent State University and clinical child psychologist with KidsLink Neurobehavioral Center. He has been Director of the Pediatric Anxiety Research Clinic at Kent State since 2011. Dr. Flessner's research focuses on biological and psychosocial risk factors that may be linked to the development of childhood anxiety and related problems—such as obsessive-compulsive disorder, trichotillomania, and tic disorders—and how a better understanding of risk factors might be used to improve existing therapeutic interventions.

---
All titles by Christopher A. Flessner: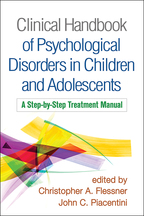 Clinical Handbook of Psychological Disorders in Children and Adolescents: A Step-by-Step Treatment Manual
Edited by Christopher A. Flessner and John C. Piacentini
Order both items — a $137.00 value for $99.95!