Christopher McCarty

Christopher McCarty, PhD, is Professor and Chair of Anthropology at the University of Florida, where he is also Director of the Bureau of Economic and Business Research. He has done research on personal networks since the 1980s and is the developer of EgoNet, the first program for the collection and analysis of personal network data. Dr. McCarty has conducted studies of migration, disasters, substance abuse, homelessness, and racism. Along with his coauthors, he conducted the largest personal network study of migrants to date, using data from Spain and the United States.


---
All titles by Christopher McCarty: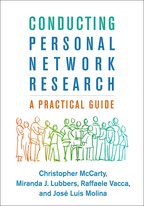 Conducting Personal Network Research: A Practical Guide

Christopher McCarty, Miranda J. Lubbers, Raffaele Vacca, and José Luis Molina
Paperback
April 1, 2019
$45.00
$38.25
e-Book
February 22, 2019
$45.00
$38.25
Print + e-Book
Save 45%!
$90.00
$49.50