Colette M. Smart

Colette M. Smart, PhD, a clinical neuropsychologist, is Associate Professor of Psychology and a member of the graduate faculty in the Clinical Psychology Training Program at the University of Victoria, British Columbia, Canada, where she is also a research affiliate of the Institute on Aging and Lifelong Health. Previously, Dr. Smart was a staff neuropsychologist at the Johnson Rehabilitation Institute and the Neuroscience Institute, both affiliates of JFK Medical Center in Edison, New Jersey. Her current research integrates her knowledge of aging and dementia with principles and practices of neurorehabilitation. Dr. Smart is a core member of the Subjective Cognitive Decline Initiative, an international working group of researcher-clinicians, in which she leads a special interest group focused on non-pharmacological interventions such as mindfulness training.


---
All titles by Colette M. Smart: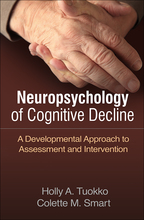 Neuropsychology of Cognitive Decline: A Developmental Approach to Assessment and Intervention

Holly A. Tuokko and Colette M. Smart
Hardcover
June 5, 2018
$55.00
$46.75
e-Book
June 5, 2018
$55.00
$46.75
Print + e-Book
Save 45%!
$110.00
$60.50