Daniel J. Siegel

Daniel J. Siegel, MD, is an internationally acclaimed author, award-winning educator, and renowned child psychiatrist. He is Clinical Professor of Psychiatry at the School of Medicine of the University of California, Los Angeles, where he is Founding Co-Director of the Mindful Awareness Research Center. He is a Distinguished Fellow of the American Psychiatric Association and recipient of several honorary fellowships. He is also Executive Director of the Mindsight Institute, an educational center devoted to promoting insight, compassion, and empathy in individuals, families, institutions, and communities. Dr. Siegel's books include The Mindful Brain, Mindsight, Pocket Guide to Interpersonal Neurobiology, The Mindful Therapist, Parenting from the Inside Out, The Whole-Brain Child, Brainstorm, The Yes Brain, The Power of Showing Up, Mind, and Aware.

---
All titles by Daniel J. Siegel: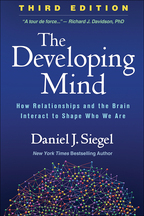 The Developing Mind: Third Edition: How Relationships and the Brain Interact to Shape Who We Are

Daniel J. Siegel
Hardcover
May 19, 2020
$55.00
$46.75
e-Book
May 19, 2020
$55.00
$46.75
Print + e-Book
Save 45%!
$110.00
$60.50