David G. Amaral

David G. Amaral, PhD, is Distinguished Professor of Psychiatry and Neuroscience and Research Director of the UC Davis MIND Institute at the University of California, Davis. His interests include the neurobiology of social behavior and the development, neuroanatomical organization, and plasticity of the primate and human amygdala and hippocampal formation, with a particular focus on understanding the biological bases of autism spectrum disorder. Dr. Amaral is Director of Autism BrainNet, which solicits postmortem brain tissue to facilitate autism research, and Editor-in-Chief of Autism Research. He is a past president of the International Society for Autism Research and a Fellow of the American Association for the Advancement of Science, among other honors.


---
All titles by David G. Amaral: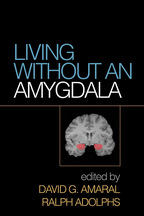 Living without an Amygdala
Edited by David G. Amaral and Ralph Adolphs
Hardcover
June 13, 2016
$86.00
Print +

e-Book


Save 45%!
$172.00
$94.60