Dennis Greenberger

Dennis Greenberger, PhD, a clinical psychologist, is founder and Director of the Anxiety and Depression Center in Newport Beach, California. He is a past president and Founding Fellow of the Academy of Cognitive Therapy. Dr. Greenberger trained at the University of Pennsylvania's Center for Cognitive Therapy and was mentored by Aaron T. Beck and Judith S. Beck. He is a longtime practitioner of CBT and has presented at national and international conferences. Dr. Greenberger is coauthor of the bestselling self-help resource Mind Over Mood, Second Edition, which was cited as the most influential CBT book of all time by the British Association of Cognitive and Behavioural Psychotherapy. His website is www.anxietyanddepressioncenter.com.

---
Sign up to receive e-alerts
with the latest information about
The Clinician's Guide to CBT Using Mind Over Mood, Second Edition
and other
Mind Over Mood
news. Plus, view
Frequently Asked Questions
.
---
All titles by Dennis Greenberger: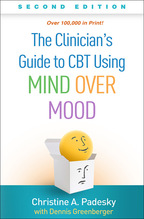 The Clinician's Guide to CBT Using Mind Over Mood: Second Edition

Christine A. Padesky
With Dennis Greenberger