Eddie Harmon-Jones
Eddie Harmon-Jones, PhD, is Professor of Psychology at the University of New South Wales, Australia. A recipient of the Award for Distinguished Early Career Contributions to Psychophysiology from the Society for Psychophysiological Research, he is associate editor of Emotion. Dr. Harmon-Jones's research focuses on emotions and motivations, their implications for cognitive and social processes and behaviors, and their underlying neural circuits.

---
All titles by Eddie Harmon-Jones: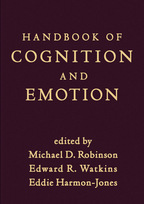 Handbook of Cognition and Emotion
Edited by Michael D. Robinson, Edward R. Watkins, and Eddie Harmon-Jones
Hardcover
March 29, 2013
$130.00
$110.50
e-Book
April 3, 2013
$130.00
$110.50
Print + e-Book
Save 45%!
$260.00
$143.00
Methods in Social Neuroscience
Edited by Eddie Harmon-Jones and Jennifer S. Beer
Hardcover
January 9, 2009
$57.00
$48.45
e-Book
May 9, 2012
$57.00
$48.45
Print + e-Book
Save 45%!
$114.00
$62.70